The 2020 edition of the Durban July was an amazing event, although much of my amazement was prompted by some of the truly bizarre goings on that I witnessed from the comfort of my home.
Garrick Bergh writes in the Sporting Post Mailbag
Firstly – Congratulations to Snaith Racing for winning the race. It's a hard race to win even when your yard has 27% of the final field.
It was also good to see a pacemaker employed; which appeared to result in an uncharacteristically 'clean' race with few, if any, runners able to cite misfortune in running as an excuse afterwards.
So on to the 'amazing' stuff :
It's hard to imagine a local sporting event where so many words, so much viewing time and data was spent quite so fruitlessly. The winner could hardly be described as 'hard to find' yet the endless stream of earnest 'experts' that were paraded for our enlightenment during the week preceding the race managed, with remarkably few exceptions, to nail their colours to the wrong mast.
Let me be quick to add that I was well aligned with those who got it wrong although, in my defence, I will not back a horse in the July at a price shorter than 12/1 as a matter of habit.

So that ruled me out of backing Belgarion even had I wanted to. Which I didn't.
Nevertheless I was well pleased with the performance of my pick It's My Turn; who managed a creditable 5th place and briefly raised my hopes halfway down the straight that my 50/1 punt might actually deliver.
Then there was the Pick 6. I have not for many years supported the Tote as I am innately shy of bad service, dodgy dividend declarations and confiscatory takeouts. So their dividends are a mere curiosity to me.
But if ever you wanted a live example of 'all the king's horses and all the king's men' then that was the bet to go for on Saturday.
Somebody was very happy on Saturday night. My advice to that person – Never go near another racecourse again. You found the proverbial needle. It is unlikely you will find it again. Well done to you.
Early on in the afternoon I became aware that Hollywoodbets Greyville racing was being beamed on other Supersport channels. Yipee! At last I could watch racing in HD on my 82' TV without feeling that I was being fed a picture with about as much quality as an 80's porn video. That's where the afternoon got truly 'amazing'.
There was Neil Andrews soldiering on patiently with a studio assistant who, if her startled facial expressions and comments were any guide, made it pretty plain that she knew less than nothing about horse racing.
Let's write that off to 'diversity' as long as we remember to drop another pretty, inexpert young thing into the next Soweto Derby preview; whom we make sure knows nothing about football and see how well that is received. It was equally apparent that Neil had no effective link with the course as he was mystified as to why there was a delay to the start of the July. Well planned broadcast, guys!
Of course – there had to be a delay and it had to be a spread shoe. Why not? South Africa is world class in 'spreading shoes'. No other global racing jurisdiction comes even close.

So Greyville retained its enviable record for being unable to start its feature on time despite a gap of 40 minutes between the previous race and the July.
Note to the NHRA – a spread shoe should be an automatic scratching. Why? Because if you have seen a horse that was re-shoed at the start actually win then you have seen a relatively rare event.
But the real surprise was the other studio guest – none other than Mr Vee Moodley of the NHRA. You could have knocked me over with a feather.
Mr Moodley was in full cry – dispensing all sorts of horse related advice to the viewers. For the small handful of viewers who might, like me, have found this just a little strange let's draw a comparison :
If you were to wander into a casino and find the head of the Hawks dispensing gaming advice to all around him would you not find it a little inappropriate given the office he holds?
It's not as if the NHRA is an efficient functioning regulator of racing. Far from it. They stagger from one foul up to the next whilst either ignoring or changing the rules as they go along.
With Vee supposedly in charge who, if Saturday is any guide, appears to find plenty of time to study form but not enough to run his regulatory body particularly well. Amazing.
Correct me if I am wrong but I am pretty sure that elsewhere in the world racing officials are specifically prohibited from conducting themselves in the manner which Mr Moodley seems to actually relish.
Not long thereafter we were then treated to Mr Graeme Hawkins – another racing personality who appears to wear a huge number of hats (for which I assume he is handsomely remunerated) yet could well be dubbed the 'Teflon Man' insofar as to ever fronting up and actually taking responsibility when anything goes pear shaped. (I recall a time when these functionaries actually performed their services for a personalised parking bay and free lunch on race days).
The recent cancellation of racing at Hollywoodbets Scottsville being a case in point. To date we wait with interest for the definitive enquiry…….
Mr Hawkins also appears to have plenty of time to analyse form, pedigrees and handicapping but rather spoiled his few minutes of air time with the following blooper : '…………..another bow to his string'.
Amazingly entertaining stuff.
Pics – kind courtesy of Candiese Lenferna
‹ Previous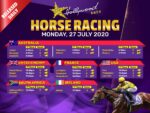 Monday Racing Magic