Tributes have poured in for Avison Carlisle, one of KZN's most passionate horseracing men and long-time chairman of the board of the South African Jockeys Academy (SAJA), who passed away on Saturday 1 August.
David Thiselton reports that Avison and his wife Mary are testimony to the enjoyment that can be derived from owning, breeding and watching thoroughbreds and Avison cared so deeply for the health of the industry that he became involved beyond the call of duty.
The couple were introduced to racing by Scotch Ferrie, who was the assistant headmaster at their son Keyan's school Weston Agricultural College, and three years later they bought their first horse Rebel Patriot for R75 000 at the Yearling Sales in Durban.
wayuDuncan Howells trained this Exclusive Patriot gelding to six wins.
His success was the beginning of a love affair with the sport for the Carlisles.
In 2002 Howells notified them that Rebel Patriot's dam, Rebel Qui, was up for sale together with her weaning at a dispersal sale at The Dargle in KZN.
They were not really interested but on the day of the sale Avison needed to escape the frustration of watching the South African cricket team losing so he and Mary decided to go and have a look.
They returned to announce to the family the purchase of Rebel Qui for a paltry R1,200 and her foal for R14 000.
Rebel Qui thus became the foundation mare of the Carlisle's Kinmount Stud, based on their farm, which is situated between Howick and Nottingham Road.
It was the beginning of a KZN racing fairytale.
The weanling was Ravenscraig, who won three-in-a-row early in his career and was good enough to be entered in the Grade 2 KZN Guineas. He went on to win one more race.
The Carlisles sent Rebel Qui to Winter Romance and she was soon in foal.
In 2003 while holidaying in the UK and traveling on the Flying Scotsman headed for Edinburgh Avison and Mary received an SMS from their daughter Kristy to let them know Rebel Patriot was running that day.
Later, upon arrival at a quaint hotel recommended by a taxi driver, the phone beeped again and this time the SMS said simply, "He won!!"
They were standing at the time on the front mat and after a joyous celebratory outburst they looked down and read the words "The Howard." In an instant the name of Rebel Qui's pending foal was decided. The Howard won a 1600m race at Clairwood and later added another win at Flamingo Park. He was no great shakes but gave many people a lot of enjoyment including the owners of The Howard Hotel in Edinburgh who posted regular reports of his progress on their communications billboard. Such was the infectious enthusiasm for the sport Avison had.
Rebel Qui's next foal was Rebellious Streak, a Deep Sleep gelding who won five races and was placed 12 times.
The next two foals were both by the disappointing stallion Requiem, one being unraced and the other unplaced.
However, the unraced one, Quinarius, produced a four-time winner and two-time winner both by Lion Tamer.
Rebel Qui then produced one time winner and seven-times placed filly Yet Again by Muhtafal. Yet Again went on to produce a twice winner by Toreador.
Then came a windfall when Rebel Qui's next foal, Patriotic Rebel was purchased for R100 000 by Brett Crawford.
This Stronghold gelding went on to win twice and finish placed in two stakes races, including the Gr1 Investec Cape Derby, before being bought into the Mike de Kock yard, for whom he finished a narrow second in the Grade 3 Mango (Campanajo) 2200. However, he was destined to only win one more race.At around the same time of Patriotic Rebel being sold at the Ready To Run Sale, the Carlisles bought Rebel Patriot's full-sister, Polish Rebel, who was in foal to Silvano, for a bargain R60,000 at a Cape mare and weanling sale.
The resulting foal was Regal Eagle, who won five of her first eight starts and later finished fifth in the Gr1 Golden Horse Sprint.
Rebel Qui's last filly was the three-time winner Crystal Ball and she will be covered this season by What A Winter.
Kinmount have produced an incredible fifty wins from small beginnings.
Avison was also a compassionate man and the family adopted a street child named Ronald Khumalo. This soon looked to be another fairytale story as Ronald was not only accepted into SAJA but became the first of his year to make it to track and the first to race ride. However, with a bright future beckoning Ronald's attitude changed for the worse and the Carlisle family's sadness was later compounded when he passed away at a young age.
Avison's connection to SAJA had started with Ronald and in 2009 he was voted in as Chairman of the Academy Board. He vowed to stamp out the conceited attitude which had crept into the Academy students and which had led to Ronald's decline in fortunes
Mary confirmed SAJA became Avison's passion and he poured a tremendous amount of energy andlove into this world renowned institution. He enjoyed a fine working relationship with headmaster Graeme Bailey and was still the Chairman upon his passing yesterday.
Avison also attempted at one stage to start an organisation which would represent the collective wishes of KZN owners, trainers and breeders, but after a year of effort it did not get off the ground.
He never missed a Scottsville racemeeting and the Carlisles enjoying the day in the members area together with the Ferries and two other veteran KZN racing families The Gibsons and the Elliotts became a familiar sight.
KZN racing will miss Avison's presence but he leaves behind a legacy in many areas of the sport.
A celebration of the life of Avison Carlisle will have to be delayed due to COVID-19 but he has left many good memories for Mary and their children Keyan. Kristy, Duncan and Tan and for the eight grandchildren he doted on.
www.goldcircle.co.za 
‹ Previous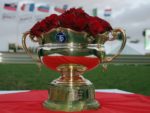 Centennial Gold Cup Behind Closed Doors