John Gosden says British racing will act as a "nursery for other parts of the world" unless prize-money improves.
Levels have taken a hit since racing returned behind closed doors and despite an increase from September onwards in some grades following a raised contribution from the Levy Board, the champion trainer fears it isn't enough to stop the loss of good horses overseas.
"I have to be concerned about it. I just don't want to see too many horses disappearing abroad. It's an old statistic but 80% of horses are rated 80 or below year in, year out. That's the average," he told Oli Bell ahead of the Welcome to Yorkshire Ebor Festival at York.
"Now once you get horses rated over 100, and that's a tiny percentile, those horses get snapped up like that by Hong Kong, Australia or America. It's happening left, right and centre and that dilutes the sheer quality of our racing and renders us as being a nursery for other parts of the world."
Gosden added: "You can't blame an owner. They've got a nice horse, they get offered all this money and see that will keep my ownership going for the next five or ten years then I've got to sell this one but you sell the family silver and you know what happens. It has to be a huge problem.
"If racecourses don't have crowds and don't have hospitality income then that's a huge hit for them. Media rights income, having been very big, is shrinking with the closure of betting shops. Now betting is going heavily online with streaming and that is what the levy needs to be adjusted to an equitable basis for the betting companies and operators, racing and racecourses to find a solution to that but it will have to be done quickly. We can't afford to keep losing our best horses abroad.
"I've already had horses with major owners go straight to America because they don't want them to race here anymore. I've had three horses being lined up to go to Australia, horses I would dearly have loved to run here for the rest of the year and then again as four-year-olds.
"If it's happening in a yard of our size with our owners, who some would have thought would be bulletproof to that sort of thing and they're not, it's a sign. They're looking at it and saying they can't afford to continue having horses here with the costs and the returns.
"When an owner comes into the game they don't expect to be making money, it's just a question of how much do they lose? If they're being taken for granted and for everything they put in they're getting nothing back, despite great success, then they're bound to have to look elsewhere.
"We have to be clear in our minds that it's not like they're going into it for a profit motive, but they are trying to control their losses. I know they don't have to own a horse but we'd be in a pretty funny old business if we didn't have people owning horses, wouldn't we?"
Sportinglife.com
‹ Previous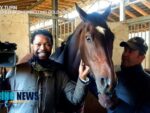 Kannemeyer's Soldier Of Fortune