Services to a number of the country's leading stallions can be bid on via the www.equineonlinesales.co.za site.
Bidding opened on Saturday and runs to Wednesday 5 August. Bidding information is available here
Please click here to read the catalogue
It should be noted that all services come with a one year roll over, except the service to Vercingetorix.
‹ Previous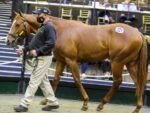 Nationals – Done And Dusted