In  an oblique year of living differently, and sometimes dangerously, the 2020 Emperors Palace National Yearling Sale wound up in Germiston on Saturday with many feeling we may have dodged the core hail of bullets – but, not that we ever doubted it, commercial reality has clearly undergone a reset.
Held over three months after its originally carded slot, the time-honoured platform of champions held up remarkably well in the circumstances. But with more Zoom than boom, stakes floundering and racing leadership in disarray, there is the cliched long hard road that lies ahead.
The sales-topper, Hawwaam's full-brother Celestial City, fell to a bid of R7 million by new Summerhill supremo Henning Pretorius on Friday and that remained the high water-mark after a quieter day 2 – aka the National 2yo Sale – on Saturday.
Top price on day 2 was the R2,3 million paid by Antony Beck for a Maine Chance-bred Silvano colt out of Pine Princess, a Gr1 SA Oaks winning daughter of Captain Al.
This good-looking well-related fellow with the fiery name of Pyromaniac, traces back in female line to top US mare Sunday Evening, ancestress of the likes of Medaglia D'Oro, Indian Skimmer and Bluebird.
And it was, in many respects, Silvano's sale, with the Maine Chance champion delivering the top five priced lots – all colts – and that quintet grossing R17,2 million, or around 20% of the sale aggregate.
Henning Pretorius also clinched the fairer sex purchase topper accolade, and this time with another Maine Chance evergreen in Querari (Oasis Dream).
The filly, nicely named Free As The Wind (#337), from the East Cape-based Botha family breeding operation, is a full-sister to Gr1 Thekwini Stakes winner Querari Falcon, and sold for R1,1 million.
On the face of it, things could have looked a lot worse.
Of the 479 lots catalogued for April, an unsurprising record 138 were withdrawn for mostly strategic reasons, and 295 sold.
In view of the substantially reduced numbers through the ring year-on-year, the aggregate of R87 065 000 is largely academic.
The average of R295 136 was 7,2% down on last year.
The median of R160 000 was down 8,6% year-on-year.
Silvano sold 26 of his 37 lots for R26 980 000, a handsome average of R1 037 962.
The always-in-demand Dynasty (Fort Wood) had 5 of his catalogued 9 sell for R3 350 000 at an average of R670 000.
Top vendor on all measures was Wilgerbosdrift, who had 18 of their 20 travellers sell for an aggregate of R16 655 000, with a healthy average of R925 278.
Top buyer on aggregate was Form Bloodstock, with 26 lots bought at R18 895 000 and an average of R726 731.
Henning Pretorius' Summerhill Equestrian picked up 3 for R8,8 million – an average of R2 933 333.
‹ Previous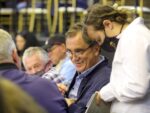 Nationals Day 2 – Watch It Live