Trainer Dean Kannemeyer and his staunch owner Fred Crabbia will fancy their chances of pulling off a Gold Cup double on the newly framed 'Super Saturday' at Hollywoodbets Greyville on 29 August.
Their Equus Champion Stayer and 2018 Gold Cup winner , It's My Turn, is one of 23 entries for the 100th renewal of South Africa's premier – albeit downgraded in recent years – staying contest, the R400 000 Gr3 World Sports Betting  Gold Cup.
With the 2019 winner Dynasty's Blossom not in the line-up, It's My Turn's connections will be buoyed by a super performance by their 7yo in the recent Vodacom Durban July and the gelding looks set to give his sire a third straight winner in the 3200m contest.
Trainer Dean Kannemeyer was quietly positive when he told the Sporting Post today that his charge was in the pink of health and jumping out of his skin.
"He ran a cracker in the Vodacom Durban July and has come back so strongly after his long break. He stays well and Sean Veale has gotten to know him in his past few starts so we will stick with him," he added.
Chez Monty became the first consecutive winner of the stamina event in 1950 and after Cuff Link in 1965 and 1967, and Highland Night in 2002 and 2003, It's My Turn is set to join a rarified band of crowd-pleasing stayers.
Supplementary entries close at 11h00 on Monday 17 August and declarations are due by 11h00 on Monday 17 August.
World Sports Betting will also sponsor the Gr1 Mercury Sprint over 1200m and the Gr1 Champions Cup over 1800m, the outcomes of which could be significant insofar as the Equus Awards are concerned.
20
It's My Turn
(8G)
60
118
A
Dean Kannemeyer
9
Miyabi Gold
(6M)
59
115
A
Justin Snaith
1
Eyes Wide Open
(6G)
58.5
114
A
Glen Kotzen
17
Hero's Honour
(6G)
58.5
114
A
Gary Alexander
12
Magnificent Seven

Accepted

(6G)
58
112
A
Justin Snaith
22
Marchingontogether
(5G)
57.5
110
A
Gavin van Zyl
8
Factor Fifty
(5M)
56.5
108
A
David Nieuwenhuizen
19
Dark Moon Rising
(7G)
55.5
105
AT
Paul Lafferty
10
Herodotus
(5G)
55.5
104
AT
Glen Kotzen
11
Imperial Ruby
(4G)
55
107
A
Corne Spies
5
Sunshine Silk
(6M)
55
103
A
Geoff Woodruff
15
Paths Of Victory
(5G)
54.5
101
A M
Gareth van Zyl
2
Dharma
(5G)
54
100
A
Geoff Woodruff
18
Flichity By Farr
(6M)
54
100
A
Alyson Wright
3
Shenanigans
(7G)
53.5
98
AT
Sean Tarry
7
Wealthy
(8G)
53.5
98
BAT
Dennis Drier
16
Snow Palace
(4F)
52
97
BA
Corne Spies
23
PayBackTheMoney
(5G)
52
92
AT
Nathan Kotzen
14
Merlin From Berlin
(5G)
52
91
BA
Nathan Kotzen
13
Favour
(4G)
52
90
A
Dean Kannemeyer
21
Clouds Of Witness
(5G)
52
89
A
Gary Rich
6
Lord Silverio
(6G)
52
88
BAT
Sean Tarry
4
Before Noon
(6G)
52
84
ATM
Sean Tarry
(23)
‹ Previous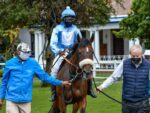 Jockey Protest – Kenilworth Abandoned