Winning Form-sponsored Warren Kennedy has bagged his maiden SA Champion Jockey title 22 years after booting home his first winner at Fairview in the Eastern Cape.
Living proof that it's never too late to do anything if you put your mind to it, Warren, aka 'Wagga', has walked a long road since he weighed just 28kgs and being threatened with dismissal if he didn't bulk up.
His success has been nothing short of phenomenal this past season and his is one of the most sweeping trophy lifts in living memory.
Riding with an 18% win strike-rate, Warren beat nearest rival Greg Cheyne by 62 wins and banked a total of R19,2 million in stakes in the 2019/20 season.
He also rode three Gr1 winners – he has four to his credit now.
And what was his secret to success?
Love and marriage – and a beautiful daughter called Jamie, maybe? They all happened in 2019 and just look at how he was improving with age:
He finished in 28th place in the 2014/2015 season with 39 winners at a strike rate of 6,2%.
In the 2015/2016 season he rode 67 winners at a strike rate of 8,8% for 17th place.
In the 2016/2017 season he rode 84 winners at a strike rate of 11,9% for 17th place.
In the 2017/2018 season he rode 79 winners at a strike rate of 10,6% for 14th pace.
The season before last,  he broke through the 100 winner mark for the first time, riding 139 winners at a strike rate of 12,2% and finished 7th on the log.
The rest, as they say, is history.
Well done, Warren!
‹ Previous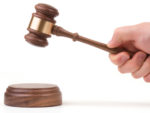 Stallion Services Up For Grabs