In these coronavirus times bargains are there to be had and Qatar Racing's David Redvers found not one but two eyecatching deals at Arqana's Select Sale on Wednesday.
Although there had been a somewhat uneasy start to the sale, Redvers, pictured below, expressed relief that France's flagship yearling auction was taking place at all and, having picked up two quality sorts, was maintaining an optimistic outlook.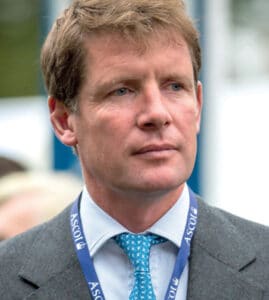 The Racing Post reports that the first of those purchases was the Dubawi half-sister to Italian Group 1 winner Biz The Nurse.
Having initially gone unsold at €120,000, Redvers struck a deal outside the ring to secure the Allevamento Le Gi-consigned youngster.
Later, an equally regally-bred Galileo colt, the first foal out of the Prix Minerve-winning Dalakhani mare Golden Valentine, also found his way to Redvers, who signed the docket at €450,000.
On the Dubawi filly, Redvers said: "Sheikh Fahad saw her, liked her and thought she'd be a good addition to the breeding shed.
She's been bought as a long-term project. In a normal year I thought she'd make a million, so in five years' time she could look very cheap."
Redvers went on to reveal that the Galileo colt consigned by Ecurie des Monceaux had been acquired in partnership with the Roth family's LNJ Foxwoods.
He said: "He's been bought for a new partnership and comes from the best stud in France.
"I saw him at the farm five or six weeks ago and he was my pick of them. We're delighted to get a horse of this quality and pedigree."
Although trade was running behind the levels witnessed at last year's August Sale, as has been the case at other yearling auctions this year, Redvers was keen to emphasise the upside this presented buyers.
He said: "It's a time of opportunity for long-term breeders to get the best breeding stock for their sheds."
‹ Previous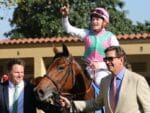 Miss Florida to Ridgemont Highlands