Former Cape-based jockey Brandon May celebrated Spring Day in fine style at Tauranga in the Waikato/Bay of Plenty region on Wednesday when he booted home his first winner seven months after his arrival in New Zealand.
All The Rage trained by Team Rogerson made Wednesday 30 September a memorable day in the life of the SA Jockey Academy graduate who started his second career as a workrider in the island country in the southwestern Pacific Ocean.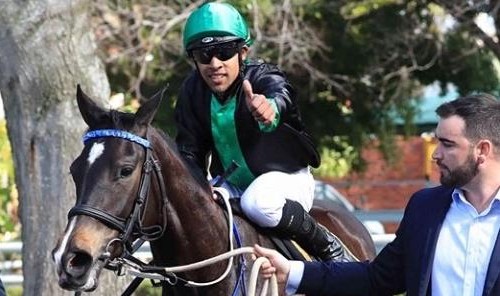 An excited Brandon told us some months ago that he decided on the international move, seeking new opportunities and looking for a fresh start.
"I arrived here on 13 February, just before lockdown and travel restrictions were implemented by the New Zealand government. I was contracted to Kilgraven Lodge.They are a breaking-in centre and I was actually initially under the impression that they were also a racing yard!" he explains.
"It was a lot different for me, but plenty of fun. And I can truly say I'm a better horseman now. Which I believe will make me a better jockey. I spent more than 4 months breaking in horses and helping wherever necessary. I really worked hard!" he says with pride.
Once lockdown was eased, Brandon set out to pursue his passion and try and get into race riding – something he admits was always his goal leaving South Africa.
"It was a real journey finding the right trainer! After an interview with Hall of Fame trainer Graeme Rogerson, who trains in partnership with his wife Debbie and granddaughter Bailey – who in 2017 was the world's youngest trainer – my mind was made up. Mr Rogerson is a well established trainer with lots of horses, and a true professional at everything he does. I can honestly say he was such a godsend! He is such a fair and honest man," says Brandon emotionally.
Brandon rode his first winner at Hollywoodbets Scottsville in May 2014 for Kumaran Naidoo.
‹ Previous
Vaal Thursday – Gallops Scheduled