Recent months have seen multiple changes in South African horse racing, all aimed at the betterment and sustainability of a sport that's loved by so many and deserving of an assured future.
Sweeping industry reform has not been limited to racing's national bodies, with several changes having recently occurred at Kenilworth Racing (KR) too.
Before announcements could be made, however, certain approvals were required from the Western Cape Gambling and Racing Board.
Included among these changes were the resignation of Robert Bloomberg as co-chair and Dean Finder as director from the Kenilworth Racing Board of Directors in June 2020.
At the last board meeting the resignation of co-chair Mark Currie was also accepted due to his fiduciary responsibilities at Investec Plc.
The KR board extend thanks and appreciation to Mark Currie, Robert Bloomberg and Dean Finder for their service and dedication to the progress of KR while serving on the board.
After a voting process at KR's most recent board meeting, Bradley Ralph, a KR director for the past 18 months, was elected chairperson of KR and Wéhann Smith was nominated and approved as a director to serve alongside Jono Snaith, Althea Dlamini and current COO Faeeza Heuvel.
Bradley Ralph was born in Durban, KwaZulu-Natal, and received a bursary for his education at Michaelhouse.
After matriculating he completed a B. Com degree at the University of KwaZulu-Natal before completing multiple executive development programmes – both locally at the Gordon Institute of Business Science – and abroad at Insead Business School in France.
Bradley is a seasoned banker having been in the banking industry for 22 years after starting his career on the enquiries counter at a branch of Standard Bank in Durban.
A firm believer in the fundamentals of structure, process, technology, good governance and the maintenance of integrity, Bradley uses these as his principles toward driving revenue growth and improving cost management.
He is also a keen thoroughbred owner with shares in race horses across the country and recently also ventured into the world of breeding with shares in a few mares too.
Wéhann Smith is a well-known figure in the racing industry via his involvement as a director of the Racing Association, a member of the MOD Task Team, and CEO of Kuda Insurance.
His knowledge, insights and understanding of racing in the Western Cape will be of great benefit to KR in the times to come.
The profitable sustainability of Thoroughbred Horse Racing in the Western Cape has always been, and will remain the goal of the board of Kenilworth Racing.
There are many stakeholders in the horse racing value chain that depend on our industry for their livelihood.
Paradoxically, Kenilworth Racing has some of the most valuable racing assets in South Africa while being cash flow challenged, with multiple agreements previously propping up its sustainability.
The playing field has now changed and the new leadership and Board of KR are unified in getting back to basics to turn around the fortunes of racing in the Western Cape in partnership with the rest of the industry.
As part of Kenilworth Racing's strategy, parts of the management agreement with Phumelela have been cancelled and the Board have assumed direct accountability and ownership on the ground for specific parts of the business.
Discussions with MOD have been initiated in order to collaborate on next steps and define the elements of the new partnership.
Several tough decisions need to be made in the next 6 months, requiring objectivity, careful independence and consideration.
The board have an open-door policy and welcome transparent communication and suggestions that could make a tangible difference to KR or racing as a whole.
The unification of racing under one banner is critical. As is evident from recent events, there is a groundswell for action to be taken in a transparent and engaging manner.
The industry as a whole is pulling for this, but it must be done systemically, with a clear plan, aligning all industry bodies for the good of racing.
We need to broaden the horse racing market, consciously drive inclusivity among all stakeholders – whether small or large – and transform the racing experience into something our customers believe is worth talking about and being a part of.
Change creates open spaces for new thinking and fresh energy that must look to the future and redefine thoroughbred horse racing in the Western Cape and South Africa.
Media release issued on 10 September 2020 on behalf of the KR Board by 99c PR.
‹ Previous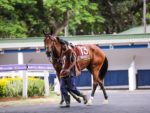 Gold Circle Outlines Super Six Concept