On a dark day for South African horseracing in the Eastern Cape, a feelgood story unfolded at the Vaal when Gauteng-based Deon Ellis and Riaan Muller celebrated a first winner for their fledgeling partnership, courtesy of Clinton Binda's Diamonds 'N Dust, who arrived to deliver a Pick 6 knockout.
Ridden by Calvin Habib, and having her first start for the Lanseria-based veteran Hollywooodbets-sponsored Binda after an undistinguished debut effort in February, the Oldlands Stud bred daughter of Oratorio stormed to victory in the third, paying R50-90 a tote win and over R12 for the place.
The 3yo, who is out of the twice-winning Oasis Dream mare Dream River, had clearly benefitted from her break and matured after running in the proverbial bush on debut.
She races in the white and black silks of Randburg-based IT Developers, Deon Ellis and Riaan Muller.
While they were not on course, the 'forty-something' partners were 'extremely thrilled' and full of praise for their trainer.
"We really couldn't hope for a more straightforward, legit, honest guy than Clinton Binda to train for us. He has created no unrealistic expectations. He said she had improved and she looked great on a pic we received the day before she ran. But we would have truly been thrilled with a top half finish. And we'd like to add the caveat that we are not 'blowing smoke' just because we had a winner," said  Deon Ellis, who had watched the race 'a few times' on his phone.
Asked whether they climbed in and backed their winner, he laughed and said that they 'had a few rand on her'.
"We are gamblers by nature. So we would not have let her run without having a bet," added Deon Ellis, who said that the filly had been an inexpensive buy.
She was purchased after not having reached her reserve price at the National Yearling Sale by retired Racing Editor, Wessel Moolman.
"I really liked her and told Barbara Sanne of Oldlands Stud – who really breed a quality and tough horse – that I could put her together. We met Deon and Riaan through my second eldest daughter's husband, who went to school with Attorney Neil Stevens. They are the kind of guys that racing needs so desperately," added the veteran media man, who spent 43 years reporting on the game as Group Racing Editor of the Sunday Times, Sports Editor of the Citizen and UK Sports Editor of the Gulf News.
Moolman, who took out his own colours in 1990, said that the concept of ownership had to be marketed as a passion and a hobby, rather than a business. He felt that unrealistic expectations and hollow promises led to disappointment, which inevitably alienated good people.
"Young guys like Deon and Riaan can afford it and they enjoy it tremendously. They don't have to rely on a winner to pay the bills. They are the right kind of professional profile to spread the genuine fun and thrills of owning a racehorse. I'm so chuffed for them and for Clinton," concluded Moolman.
‹ Previous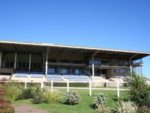 SAPS Bolster Fairview Presence