It is time to acknowledge the champions of the SA horseracing industry!
The virtual Equus Awards will be held on Sunday 13 September 2020 at 19h30 on Tellytrack, Channel 249.
It will be available to view FREE on www.tellytrack.com – register online.
The masters of ceremony on the evening are Neil Andrews and Nico Kritsiotis.
Saturday 29 August was the delayed final major feature raceday at Hollywoodbets Greyville where a number of horses stamped themselves as contenders for the various awards categories.
The judging panel, namely, Alistair Cohen, Andrew Harrison, Jack Milner, Ken Nicol and David Thiselton did not have an easy task in judging some of the categories.
The winners were adjudicated from the following nominees who were all worthy of consideration:
Equine categories:
Champion Two-year-old Colt – Erik the Red, Mount Pleasant, Nourbese, Tempting Fate
Champion Two-year-old Filly – Anything Goes, Sentbydestiny, Vernichey
Champion Three-year-old Colt – Golden Ducat, Got The Greenlight
Champion Three-year-old Filly – Missisippi Burning, Summer Pudding
Champion Older Male – Belgarion, Hawwaam, One World, Rainbow Bridge, Vardy
Champion Older Filly/Mare – Celtic Sea, Clouds Unfold, Queen Supreme, Ronnie's Candy, Temple Grafin
Champion Sprinter – Celtic Sea, Rivarine, Russet Air, Van Halen, Warrior's Rest
Champion Miler – Hawwaam, Rainbow Bridge, Vardy
Champion Middle Distance – Belgarion, Gold Ducat, Got the Greenlight, Hawwaam, One World, Rainbow Bridge, Summer Pudding
A decision was taken by the judges and members of the Equus Committee not to award a Champion Stayer for 2020 as it was felt that there was no outright deserving winner in this category.
The Horse of the Year will be selected from any of the winners in the equine categories.   The groom of the Horse of the Year will be acknowledged for his contribution to the success of the winner.
Breeder Awards:
Champion Stallion
Champion Breeder
Champion Broodmare
TBA will, in addition, be honouring the outstanding South African breeder
Individual Awards:
Champion Apprentice
Champion Jockey
Champion Trainer
Champion Owner
Released by:       Natalie Turner,
                                Chair of the Equus Committee
‹ Previous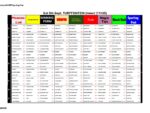 Turffontein Today – The Selections