Since the powers-that-be at Equus decided not to present an Award this year to  Stayer Of The Year, social media and chat groups have been buzzing with comment, mostly adverse, about their lack of insight and care.
As I mentioned in my eNews yesterday, we need to encourage and reward stamina in our industry NOT destroy it, writes John Freeman.
I was at Durbanville races with a bunch of owners yesterday. This was a hot topic.
Justin was incensed enough, without self-interest, to suggest that a media campaign be launched to take issue with the Equus Committee's seriously flawed judgement which we are happy to support and share.
It's well presented and thought provoking so please take the time to read and VOTE.
They all agreed to source a proper trophy which will be suitably engraved and presented. I am happy to help, we need to make this extra special and correct this. Lets' do justice to this. It's a really competitive field.
I am still trying to make my mind up about who to vote for but I am leaning towards to Marchingontogether.
VOTE FOR THE 2020 SOUTH AFRICAN STAYER OF THE YEAR
Justin Snaith felt the Equus Committee had slipped-up in not honouring the breeder, groom, trainer, jockey, owner and most importantly – the horse – in the stayer category this year.
The Equus Committee cited the following reason "it was felt that there was no outright deserving winner in this category." To discourage owners and breeders not to race stayers is not in the best interest of our sport.
Picture this: Tokyo Olympics 100m final. Usain Bolt is retired, Tyson Gay is injured and Christian Coleman runs below form.
The winner crosses the line in sheer delight fulfilling a lifelong dream. At the awards ceremony the International Olympic Committee decide not to reward him with a gold medal as, in their opinion, they felt his performance was below par.
There has never been a more important time to acknowledge achievements.
The racing community will award a trophy to the winning owner and a cash gift of two thousand rand to the stable hand of the best stayer in South Africa.  We proudly present the four nominees in his category which we felt deserved a special mention and invite you, the fans, to elect the worthy winner:
OUT OF YOUR LEAGUE was just that when producing one of the most phenomenal performances of the season when beating multiple Gr1 winner and Horse of the Year candidate, Got the Greenlight, in the Gr1 South African Derby. This horse gave it his all while making his trainer Fabian Habib an incredibly proud conditioner. This performance was so spectacular that the handicappers felt a 23-point penalty was warranted. Breeder Mr. W. Nel will be delighted with his Elusive Forts achievement along with owners Messrs JJ Habib, Est Late SFG Habib, GJ Nassif, JNassif, NJ Nassif, Miss NK Nassif, Mr WC Nassif & Mrs CNassif & Tri-DealSixteenCC (Nom: Mr ZL Nassif).
MARCHINGONTOGETHER is a son of Pathfork bred by Jagessar Limited. This Gavin Van Zyl gelding had a wonderful season winning three races including two Group 3 features, both over 2400m. The standout being the Track and Ball Derby when beating Gr1 winner, It's my Turn convincingly. This five year old also romped home by 3.5 lengths in the Lonsdale Stirrup Cup beating a host of highly regarded stayers including Gr.1 Guineas winner Tap O' Noth. This stayer was beautifully handled by Warren Kennedy in all his wins and proudly owned by Messrs E Budlender,B Bracher,M Bracher,P Rencken,Dr R Katzwinkel,Team G Racing & Purple Kingdom Syndicate (Nom : Mr U Nagadoo)
PATHS OF VICTORY found himself in the winner's box on no less than four occasions this season. His pinnacle was producing a monumental effort to fight of all challenges to win the Gr3 Gold Cup. In doing so he beat THREE Gr1 winners in It's my Turn, Eyes Wide Open and Out Of Your League. This was enormous for new sire Noble Tune as well as breeders Rathmor Stud. This was a well-deserved win for owner Mario Ferreira who is a massive contributor to racing. The planning and heartache that goes into producing a Gold Cup is incomprehensible – the reason we breed stamina – a great feat by trainer Gareth Van Zyl. S'Manga Khumalo produced one of the most exciting finishes to bring down the curtain of the season – what an exciting race.
DYNASTY'S BLOSSOM the Queen of the staying ranks and last year's Gold Cup winner deserves a mention. Her win the Gr3 Gold Vase was full of merit taking on the boys while carrying 56kg's, not an easy task. Brett Crawford gets this mare at the top of her game, year in year out, for owners Mrs John Magnier, Jagessar Limited (Nom: Mr Alan Cooper) & Maine Chance Farms (Pty) Ltd (Nom: Dr W A & Mrs N Jacobs). This daughter of Dynasty bred by Ridgemont Highlands is sure to produce a serious stayer one day at stud.
SNAPSCAN is an interesting nominee having won three races and is another impressive mare in this lineup. This Drakenstein Stud bred filly is fierce and the boys fear her for a reason – she is all heart. Her victory in the Gr2 New Turf Carriers Cape Stayers against the boys was breathless and a superb preparation by Glen Kotzen. The daughter of Oratorio is as feisty as they come and can hold her head high in this category. Her owners, Chrigor Stud (Pty) Ltd (Nom: Mrs S Hattingh), Drakenstein Stud (Nom: Mrs G A Rupert) & Mr & Mrs A Georgiou, should be proud of their girl.
Closes 19h00 on Sunday 20 September 
Winner will be presented on Monday 21 September.
‹ Previous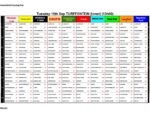 Turffontein Today – All The Selections