A reportedly violent protest at around 08h30 this morning by Grooms at Fairview in Port Elizabeth was quelled by the SAPS at 09h30, with a sense of calm apparently having been restored.
In a discussion with National Horseracing Authority CEO Vee Moodley, the Sporting Post is informed that senior NHRA management will be arriving in Port Elizabeth and meeting with Phumelela management and stakeholders in a matter of hours.
"While Phumelela are responsible for the safety and security of the racecourse and the training centre, we as the NHRA also have to consider the same factors in relation to our staff, stakeholders and horses, and a decision will be made this afternoon on tomorrow's racemeeting scheduled for Fairview," added Vee Moodley.
The Sporting Post is not in a position to provide any further details at this point.
‹ Previous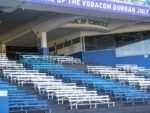 Racing Waits For News