The International Racing Club have instructed trainers of their SA-based horses to run in club colours black as a passive protest and a call to action by the National Horseracing Authority and Phumelela. This is a sequel to the events of SA Racing's Tragic Thursday at Fairview in the Eastern Cape that made news around the world.
In a statement published on Saturday, the IRC state that the silence from the NHRA and Phumelela regarding the catastrophe in PE is 'worrying'.
"Not a phone call or a message of empathy. So many lives affected and no press statement," writes Joao Da Mata.
The statement goes on to say that the IRC have lost owners after this tragic event.
"They are UK based people and cannot even fathom what has happened. We have instructed all our trainers to race our horses in club colours black until we feel that enough has been done by the NHRA and Phumelela to deal with this matter as opposed to 'hoping it goes away'"
He adds that he is sure there is a fine for wearing club colours black.
"Frankly I don't care how much it is. You have the choice to start doing the right thing. Until further notice our horses run in black."
The NHRA 's Racing Control Executive Arnold Hyde was interviewed on the Clocking The Gallop Show.
Phumelela published the media release shown below on the day of the protest:
The race meeting at Fairview on Friday is set to go ahead.
Most grooms at the training centre at the racecourse had returned to work by midday today following a protest this morning that turned violent.
The protest was initiated by grooms formerly employed by leading Port Elizabeth trainer Yvette Bremner and other grooms at the centre later joined the protest.
Several horses in Bremner's care were let out of their stables and chased from the complex before the Public Order Police managed to remove the protesters from the training centre and restore order.
Unfortunately, one of Bremner's charges, Mark The Doorman, died after falling and breaking his neck as a result of the grooms' actions.
All other horses let loose were later caught and returned to their stables. Several suffered varying injuries, but a veterinary surgeon said that initial examinations indicated all are likely to recover.
Phumelela is liaising with the Department of Labour in a bid to resolve the dispute between Bremner and her former employees, which traces back to an incident several months ago when a Bremner charge was stabbed by a groom.
Phumelela has enlisted additional private security personnel to assist in protecting people and horses in the complex overnight and they will be on duty on raceday. There will also be a strong police presence from early on raceday morning.
Phumelela continues to monitor the situation and will issue an update when appropriate. It intends to do everything possible to ensure that all those responsible for the unrest are prosecuted.
‹ Previous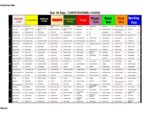 Turffontein – All The Selections