Hedley McGrath joined Phumelela GM Luciano Passerini on a  final walkabout of the immaculate and ghostly silent Dippin' Blu barns at Fairview earlier today and handed over the keys in a moment that he labelled 'extremely emotional'.
The leading owner told the Sporting Post that his partner Yvette Bremner had not returned to the stables and would not be returning.
He was busy rounding up the six stable cats this morning when we spoke to him.
"Yvette has been traumatised to the point of breaking and she didn't need further pain. This was her life. Her pride. Her joy. It's the end of an era in our lives and in the broader SA racing landscape. To all the detractors, and the so-called animal lovers out there, I say farewell."
Phumelela issued a statement on Monday that they would not be drawn into a media debate on the tragic event. Time will judge the actions, or lack of it, on the part of the racing authorities.
‹ Previous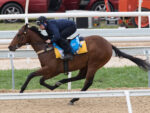 Breeze Up Record