Gold Circle has agreed to host the trial of a proposed new racing concept called Super Six Racing.
In a media release on Thursday 10 September 2020, Gold Circle confirms that they were approached by Super Six Racing Ltd., a UK-based company to trial the concept which will in no way affect the Hollywoodbets Greyville meeting scheduled for Wednesday, September 16, other than in six races in which riders will be wearing designated colours of the team sponsors and not the silks of the registered owners.
Other than the colour changes – where affected owners will be financially compensated –  the meeting will be as normal, called by the local commentator on duty and broadcast on Tellytrack.
The aim of the exercise is to 'test-drive' the new concept ultimately aimed at the emerging Chinese thoroughbred racing industry where gambling is prohibited.
Click here for the provisional fields for the meeting
The Super Six press release reads:
The Super Six product is aimed at taking the sport of horse racing to consumers as a non-gambling proposition. Super Six Racing is in negotiation with distributors to put our programme in front of a global audience, particularly into territories where gambling is currently prohibited, in particular mainland China.
The purpose of the trial (at Hollywoodbets Greyville) is to produce a very high-quality broadcast package of some 40-minute duration which will be used to showcase the Super Six horse racing product to our potential sponsors and partners.
The only difference from a normal raceday would be that Super Six would require fields of exactly twelve runners, with jockeys wearing the colours of our Super Six Racing teams, rather than the owners own colours. We envisage our six races to be part of a normal eight-race card so that there would be minimal disruption to the usual racing product.
Subject to a successful trial, Super Six Racing Ltd will look to enter into formal agreements to stage its first full Super Six Live Racing Series.
Initial thoughts see a series of six meetings, typically with four weeks space between them, which would allow for five qualifying events and a grand Final. Our intention will be to live stream and broadcast the Super Six series internationally and in particular into mainland China.
This very low risk proposition, with minimum disruption, offers the potential for substantial long-term benefits to the South African horse racing industry, including:
Phase One:
An enhanced broadcast product on Super Six Raceday, showcasing South African racing to a new international audience.
A partnership with Super Six Global League, presenting a more approachable, inclusive and easy to understand horse racing offer
A transformational offer engaging with a sector of the population, previously disinterested in horse racing, engaging, entertaining and building a sustainable new audience for the sport.
Phase Two
Super Six plans foresee the development of four major new racetrack facilities in China over the next ten years. Each new racetrack in China will require upwards of 600 horses and regular re-supply
South African racing would act as a feeder or nursery for Super Six Racing in China, with concomitant long-term benefits. Rather than waiting for racecourses to be built over a period of years, staging Super Six in South Africa means that we can move teams seamless to the new tracks as they open.
This would facilitate the strengthening of the South African breeding industry with a secure long-term demand. Enabling improvement of the breed with increased budgets for breeding stock acquisition and collaboration in securing stallions to shuttle between the northern and southern hemispheres.
Super Six is delighted to announce team sponsors for this exciting and ground-breaking Inaugural Raceday and their colours as follows:-
| | | | |
| --- | --- | --- | --- |
| Team | Body Colour | First Cap | Second Cap |
| Autoimmune Warriors | Pink | Pink | Purple |
| Drakenstein Stud | Light Blue | Light Blue | White |
| Dromex | Yellow | Yellow | Black |
| Team G Racing | Red with Yellow Circles | Red | Yellow |
| Klawervlei Stud | White | Green Spots on White | White Spots on Green |
| Summerhill Equine | Red, White and Blue | Dark Blue | Grey |
Following on from the Inaugural Raceday, Super Six and Gold Circle will work towards staging the first full series of Super Six Racing.
Finally, Super Six Racing would like to thank Gold Circle and all team sponsors for their outstanding support in such difficult and unprecedented times – without which this Inaugural Raceday would not be possible.
‹ Previous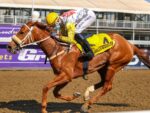 A Bump – Or More?