The 'rising star' tag had been bandied around for a while, but after Inferno lit up Saturday's Gr1 Singapore Guineas in a victory as emphatic as you would ever witness at Kranji, not many will now disagree that a new star is born.
Even if Mr Malek – smart but not as charismatic – had not been sensationally scratched on Tuesday, the third and last Leg of the Singapore Three-Year-Old Challenge was always going to be billed as a one-horse race, especially after Inferno jogged to an easy win in the first (technically second) Leg, the Gr2 Singapore Classic a month ago.
The early muddling-run pace could have set a costly trap, but Inferno sidestepped it with the ease and hint of swagger that is the hallmark of very good horses.
After nestling into the box-seat from his barrier one (not the best for a horse who is more dominant when he plots a path on the outside), the son of Holy Roman Emperor was seen racing with his mouth open when race-leader Senor Don (Ryan Munger) stacked up the speed.
Though not overly concerned, Vlad Duric had been prepared for such an eventuality.
The champion jockey immediately eased Inferno off the rails 400m into the race, a move which coincided with Meryl (Wong Chin Chuen) spearing over three wide to go and inject more speed into the race.
From that point onwards, Inferno was travelling a lot more within his own steam in and amongst runners, getting a lovely tow behind Strong N Powerful (Juan Paul van der Merwe) while Big Hearted (Louis-Philippe Beuzelin) was trapped three deep.
As Duric manoeuvred his mount to the outside upon approaching the home turn, the complexion of the race could not have made for a more predictable finish.
While all his opponents were under the pump, with jockeys hard at work, arms and whips flailing wildly, Duric was as still as a Madame Tussaud's wax figure, but the conveyance underneath still zoomed up to the front in auto-pilot mode.
A few shakes of the reins and only one smack of the whip, and Barree Stable's new star effortlessly strode to one of the easiest wins seen at Kranji, not so much for the margin as Rocket Star (Marc Lerner), the winner for the first minor prize, finished 1 ½ lengths astern, but for the consummate ease of a win that looked more like a galloping exhibition.
Besides Rocket Star, take nothing away from his rivals who showed great heart to fight for prizemoney, with Strong N Powerful in third another short head away, just nudging Big Hearted out of a podium finish by a head, but it's just unfortunate that they happen to be racing in the same year as Brown's new champion.
By claiming the two Legs, Inferno is crowned the undisputed new Singapore Three-Year-Old Champion, even if he has already turned four given the modified conditions to the series in the wake of the COVID-19 pandemic, and also takes home S$50,000 as bonus.
Inferno, who was sent out at unbackable odds of $5.30, returned a moderate time of 1min 36.2secs for the 1600m on the Short Course, largely due to the soft sectionals in the first 600m of the event.
Time is no time, Brown, just like the thousands of privileged viewers who watched from home, was simply blown away by the breathtaking spin from a horse who is slowly but surely taking a special place in his heart right next to Barree's original 'horse of a lifetime', Debt Collector.
"He was very impressive. Vlad didn't have to do too much on him," said the Australian handler.
"He did overrace a touch in the first 400m when they slowed up the pace, but Vlad did the right thing by popping him off the fence.
"We knew this could happen and we were always prepared for that. Once he went around the outside, I knew he couldn't lose."
While the 3YO series is done and dusted, it doesn't mean that Inferno is going for a well-deserved break. Besides, he has raced only three times this prep (for three wins).
"We can possibly look at the Raffles Cup, but it's in two weeks' time," said Brown.
"Vlad looked after him out there today, but we'll still see how he pulls up. No decision will be made until we speak to (Barree Stable's principal owner) Glenn (Whittenbury)."
Brown thought that his second runner Trading Post (Simon Kok Wei Hoong) who finished sixth more than three lengths off was not disgraced. The son of Fighting Sun raced only twice prior to the Guineas, for one win.
"He might be at this kind of level in the future. He's a nice horse and he ran very good," he said.
With that seventh win (four at Group level) from eight starts (only defeat was a second to Siam Warrior), Inferno has banked in close to $700,000 for his lucky connections.
A relieved Duric walked out of the jockeys' room a happy man he had steered Inferno to his first Group 1 success and maintained a perfect record of three from three. Duric took over after Michael Rodd, who partnered Inferno to his first four wins, returned to Australia during the Circuit Breaker in June.
"The horse (Inferno) was in such good condition. Going to the start, he was fresh and bouncy," said Duric.
"He gave me so much confidence that I wasn't so worried about a bit of bad luck from barrier one.
"They did go very slow in the first 200 to 300 metres, but when Meryl went forward, that really made the race for me.
"He dropped his head and relaxed for me. He was in the right spot for me and he showed his class in the end.
"He's such a beautiful horse and I'm just lucky to be on him. I'm so rapt for Cliff, Glenn and Chris Bock.
"All's good, I'm just so relieved we got the job done. It was a great team effort."
Not only it was mission accomplished on Inferno, but Duric has made up for lost time at his first day back from a two-week suspension, taking no prisoners with a bumper haul of five winners.
The three-time Singapore champion jockey, who is bidding for a fourth successive title, also won aboard Speedy Missile (see previous report), Gravel Road, Quarter Back and Minhaaj to take his score to 53 winners, putting a gap back in the margin Brazilian jockey Ruan Maia had cut with his nine winners during Duric's absence.
"It's been a great day at the office. I'm lucky I have wonderful support from so many trainers," said the Australian ace.
"Today, I even rode a first winner (Minhaaj) for a different trainer (John O'Hara). I'm so glad I have hit the board for a few people.
"Ruan is a wonderful rider and a champion bloke. It's good I have competition from him as it keeps me on my toes.
"Jockeys of his calibre and talent force elevate you to another level. I'm sure our fight will go down to the wire, and hopefully, I come out on tops."
Inferno is by Holy Roman Emperor (IRL) out of  Spina Rosa (Redoute's Choice)
‹ Previous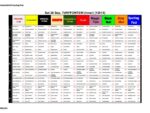 Turffontein Today – The Selections