Like a top-order Test batter who puts together a couple of ducks, a jockey is often only as good as his or her most recent ride.
In his heyday, when guiding champion Winx to a kaleidoscope of feature race wins, Hugh Bowman could do no wrong in the eyes of an adoring public.
In the past seven weeks, while it would be an overreaction to suggest he's had a fall from grace, there have been questions asked about his judgement.
The first instance led to a 6-week suspension after jockey Andrew Adkins suffered a sickening fall and his untapped 2YO mount, Hot 'N' Hazy, was euthanised. Just back from that enforced holiday, the latest ocurred at Rosehill on Saturday when Bowman rode short-priced favourite Farnan as if the Gr2 Run To The Rose was a 400m dash not a 1200m test – corroborated by sizzling splits immediately after the jump.
Watch it here
The valuable Golden Slipper winner carved out early sectionals that had stewards, in particular, incredulous to the point an enquiry was opened.
Racenet.com.au reports that chief steward Marc Van Gestel told Bowman he felt the rider was "quite aggressive on Farnan" in the early stages.
"That's as aggressive as I've seen you on a horse out of the gates," he said. "Is there any reason why you rode in that manner. As aggressive as what you were?"
Bowman took exception to Van Gestel's account of the events – stating the horse had gone about "five or six strides" before he asked Farnan to press on to take the lead.
He told stewards he was unable to come back behind Rothfire to secure cover due to horses being back to the inside of the Queenslander.
"When I showed my hand, my horse being first-up reacted and took off basically," Bowman said. "I didn't come out to lead at all costs.
"It was an instinctive decision at the time and once I made that decision to go forward and lead the race, the horse took charge of me really and took off."
Van Gestel informed Bowman that Farnan ran his first 600m in 34.26 seconds from a standing start and he ran 10.34 from the 1000 to the 800m.
The Inquiry will continue.
‹ Previous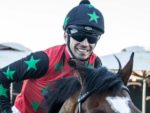 Durbanville Racing Today