There has been no movement at the top of the table for the R900 000 Emperors Palace Ready To Run Cup (Presented by Bloodstock South Africa) to be run over 1400m at Turffontein on Saturday 31 October.
Unbeaten Anything Goes still holds the No 1 spot on the log with War Of Athena just behind her.
The Non-Black Type race is open to eligible graduates of the 2019 Bloodstock South Africa Emperor's Palace Summer Ready To Run Sale.
Entries for the race close at 11am on Monday 19 October with a supplementary entry opportunity that closes at 9am on Monday 26 October.
Declarations close at 11am on Tuesday 27 October.
The field will be limited to 16 runners plus two reserves.
The final field will be determined by a panel appointed by the racing operator.
| | | | | | | | |
| --- | --- | --- | --- | --- | --- | --- | --- |
| 22-Sep | 17-Sep | Horse | Age | Sex | MR | Wns | Trainer |
| 1 | 1 | ANYTHING GOES | 3 | F | 111 | 4 | Stuart Pettigrew |
| 2 | 2 | WAR OF ATHENA | 3 | F | 110 | 2 | Paul Matchett |
| 3 | 3 | MISS ELEGANCE | 3 | F | 98 | 1 | Lucky Houdalakis |
| 4 | 4 | AFTERNOON TEA | 3 | F | 97 | 1 | Ashley Fortune |
| 5 | 5 | MK'S PRIDE | 3 | C | 91 | 1 | Paul Peter |
| 6 | 6 | BOLD FORTUNE | 3 | F | 87 | 1 | Stuart Pettigrew |
| 7 | 7 | ICE MAN COMETH | 3 | C | 86 | 1 | Gary Alexander |
| 8 | 8 | ASTRAL PLANE | 3 | F | 84 | 1 | Gary Alexander |
| 8 | 8 | GAVEL STRIKE | 3 | C | 84 | 1 | Lezeanne Forbes |
| 8 | 10 | DESERT ILLUSION | 3 | G | 84 | 0 | Brett Crawford |
| 11 | | THE KOP | 3 | C | 83 | 1 | Gary Alexander |
| 11 | 10 | KOKESHI | 3 | F | 83 | 1 | Mike De Kock |
| 13 | 12 | MYNAGE | 3 | F | 82 | 0 | Mike De Kock |
| 14 | 13 | HARLEQUIN JACK | 3 | G | 81 | 0 | Mike De Kock |
| 15 | | LATE NIGHT LIVE | 3 | F | 80 | 0 | R A Hill/S R Hill |
| 15 | 14 | SWISS BANK | 3 | F | 80 | 0 | David Nieuwenhuizen |
| 17 | 15 | THE VILLA GRAND | 3 | F | 78 | 1 | Paul Matchett |
| 18 | | UMKHOMAZI | 3 | F | 77 | 0 | Justin Snaith |
| 18 | 16 | SOWETO HALL | 3 | F | 77 | 0 | Kumaran Naidoo |
| 18 | 16 | EMERALD FLOE | 3 | F | 77 | 0 | J A Janse van Vuuren |
| 21 | 18 | ONLY THE BRAVE | 3 | F | 75 | 0 | Paul Matchett |
| 21 | 18 | MAESTRO SONADOR | 3 | C | 75 | 0 | Lezeanne Forbes |
| 23 | 20 | GIGGIN | 3 | G | 74 | 0 | Michael Miller |
| 24 | 21 | LIVERPOOL LEGEND | 3 | F | 72 | 0 | St John Gray |
| 25 | 22 | FORWARD MARCH | 3 | F | 71 | 0 | J A Janse van Vuuren |
| 25 | 22 | WATCHING CLOSELY | 3 | F | 71 | 0 | Gerald C Walker |
| 27 | 24 | BELLA'S FORTUNE | 3 | F | 70 | 0 | WDF Badenhorst |
| 27 | 24 | DUSTED DONUT | 3 | G | 70 | 0 | Ashley Fortune |
| 29 | 26 | CHAMPINGATTHEBIT | 3 | G | 69 | 0 | Paul Matchett |
| 30 | 27 | FROZEN PALACE | 3 | G | 66 | 0 | Fabian Habib |
| 30 | 27 | JAEGER MOON | 3 | C | 66 | 0 | Gavin Smith |
| 32 | | IM ATTRACKTIVE | 3 | F | 64 | 0 | Kumaran Naidoo |
| 33 | 32 | NDIKHALELE | 3 | F | 63 | 0 | Corrie Lensley |
| 33 | 29 | MONEY MONEY MONEY | 3 | F | 63 | 0 | Corrie Lensley |
| 35 | 30 | RUBONDO | 3 | G | 62 | 0 | Louis Goosen |
| 36 | 31 | CHAKALAKA GUY | 3 | G | 57 | 0 | Yogas Govender |
| 37 | | DIVINE CASCADE | 3 | F | 53 | 0 | Chris Jonker |
‹ Previous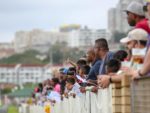 Gold Circle Come To Party