The Azzies' Bohica has had his rating raised from 105 to 109 after he overcame a wide draw and being carried wide on the turn to win the Listed Spring Spree Stakes (handicap) over 1200m on the Turffontein inside track on Saturday.
The Handicappers felt that 3rd placed Rebel's Champ was the best line horse to use and accordingly his rating remains unchanged on 118.
On the other hand, 2nd placed Alramz (who carried half-a-kilo overweight) goes up from 99 to 101.
There were no other increases, but three horses were given a ratings' drop.
Angel's Power is down from 104 to 103, Urban Rock is down from 94 to 92, and lastly Oravar drops to 102 from 104.
Media release by NHRA on Monday 7 September 2020
‹ Previous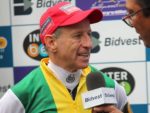 Marcus Today: 1 Ride – 1 Winner?