The National Horseracing Authority confirms that it has approved the 'Super Six' trial at Hollywoodbets Greyville Racecourse on Wednesday, 16 September 2020, and the carrying of 'team' colours in terms of Rule 8.3.5 by the runners allocated at random for each team.
The nature of the proposed trial is six separate events which are raced independently of any 'team' dynamic.
The 'team' is in reality a paper team, allocated at random for each race, and which operates independently and without influence of the actual individual races.
This is almost identical to the practice and governance of International or Provincial Jockey races.
Therefore, all races will be construed as normal races for NHRA racing control purpose and all rules applicable to any normal race will apply, with the proviso that the 'team' will be indicated by a colour (silks) change for each jockey in each race.
Each owner and trainer remains the responsible party for the determination of the tactics to be employed for each horse and each jockey will ride to the instructions given by the trainer and owner(s), all of whom act as independent agents for their runners and exclusive from the 'team' allocated randomly.
Media release by NHRA on 14 September 2020
‹ Previous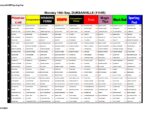 Durbanville Today – The Selections