A man who lived for his horses and angling, longstanding owner and breeder Nico Swart passed away peacefully at Yzerfontein on the Cape West Coast on Sunday. He was 83.
Nico Johann Swart was a no frills gentleman who led his first winner in almost a half century ago. The filly was Inca Princess, trained by his favourite trainer, the late Pat O'Neill, and ridden by Mike Riley.
His daughter Denise spoke to the Sporting Post on Monday, and said that her father always indicated that his wish was to enjoy his last days in the West Coast harbour town that he loved.
She said that her younger sister had passed away six years ago and that her Dad had moved in with her, two doors from his own home, in March.
"My Dad had all his broodmares at Broadlands and really enjoyed Mrs O'Neil. I was there to lead his first winner in all those years ago. It was a day that he cherished and was the start of a lifetime of love and passion for horseracing and breeding."
Denise recalled affectionately how the Bellville-born entrepeneur, a former Director and Owner of Titanium Paints, was a low-key man, who lived very simply but loved his horses and breeding.
"He always stressed the double 'n' in his second name, Johann, and often enjoyed pleading poverty. It was just his conservative style. But he  lived a full life between horses and as a Western Province Deep Sea Angler."
Mr Swart kept his last mare, First Whistle, a daughter of Whistling Wood, at Terry and Annabel Andrews' Sorrento Stud.
She is the dam of dual stakes winner Singforafa, and has a Louis The King 2yo, Singforsuzie, named in honour of his wife, who passed away last year.
Sorrento's Annabel Andrews said that Nico Swart was an honourable and passionate racing man, who had an impeccable grasp of his form and racing, and enjoyed providing input to his trainers.
Mr Swart is survived by his daughter, Denise.
A memorial service will  be held on Friday at 14h00 in the NG Kerk Yzerfontein.
‹ Previous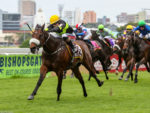 NHRA Sanctions Super Six Format