According to a release by the US Jockey Club, foal numbers for next year's foal crop in North America are expected to be just half of what they were in 2006.
If, as suggested by the release, the crop falls to 19800, it will be the first time since 1965 – over half a century ago – that there will be fewer than 20 000 thoroughbred foals born in the region.
Even if COVID-19 is blamed for some of the decline, its potential influence cannot hide the fact the North American foal crop has been sliding since a high of over 50000 foals in 1986, the same year Ferdinand became the last winner of the Kentucky Derby to jump from barrier one.
The only exception to the inexorable drop-off was in 2015 where there was a one-off mini blimp.
Estimates were delayed this year to allow extra time for farms impacted by COVID-19 to tally their numbers, with subsequent analysis now suggesting a year-on-year fall of over 7 percent.
Should the pattern persist, even at 5 percent, for each of the next five years, by 2026 the North American foal crop will have declined to just 15 320.
‹ Previous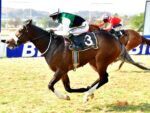 Welcome To Capetown!