The beautifully-bred 2019 Gr1 Allan Robertson Championship winner and Cape Champion Juvenile filly of her year, Miss Florida has joined the powerful Ridgemont Highlands broodmare band and will visit the top farm's multiple Gr1 winner Canford Cliffs this season.
Raced by leading owner Nic Jonsson under the Snaith Racing banner, Miss Florida's acquisition by the Ridgemont Highlands team will further bolster the champion nursery's elite broodmare band, and the daughter of champion sire Captain Al joins an illustrious list of ladies to visit the international stakes producing Canford Cliffs, whose highly anticipated first SA-bred yearlings will go through the ring in 2021.
An extraordinarily talented winner of five Gr1 races in a row, Canford Cliffs' progeny have already earned over $22 million in stakes.
Miss Florida became the 20th Gr1 winner sired by deceased multiple champion Captain Al (Al Mufti) when she maintained her unbeaten status to clinch the spoils in a rousing finish to the prestigious 2019 Gr1 Alan Robertson Championship during the SA Champions Season on the East Coast.
Her dual SA champion trainer Justin Snaith told the Sporting Post on Wednesday that Miss Florida had shown 'huge potential' early on in her career.
"As it has proven in the case of many exciting young fillies, the merit rating penalty that she was lumbered with when winning that Gr1 early on at Hollywoodbets Scottsville put her on the back foot. But she always ran her heart out giving weight away in a variety of features against the best. She has the blood and the character, and brings that time proven Captain Al x Trippi cross to the table. I have no doubt that if she imparts half her heart to her offspring, then the Ridgemont Highlands team have some exciting times to look forward to. We will be following her progress with interest and we wish them well. She is genuine class," added Snaith.
Miss Florida is the first foal of the five time winning, and stakes placed Trippi mare, Diva's Daughter. Miss Florida's fourth dam, Lover's Rose, also ranks as the fourth dam of outstanding racemare Atlantic Jewel, a winner of 10 of only 11 starts, and also Gr1 MRC Thousand Guineas winner Commanding Jewel.
"As an established stakes winner producing sire in both hemispheres, Canford Cliffs is getting the quality of mare support in South Africa that befits his status and he stamps his progeny with athleticism and quality. We have been extremely progressive as a farm at improving our broodmare band and the acquisition of Miss Florida among others shows the intent we have at breeding the best with the best. A Gr1 winning Captain Al mare is gold dust for any farm in this country and she will visit Canford Cliffs this season," said Ridgemont Highlands' Craig Kieswetter.
He confirmed that they have been very active in supporting Canford Cliffs with black type mares since his arrival in South Africa and this season was no different.
"Just some of the big names include Front And Centre (Gr1 Cape Fillies Guineas winner), Nastergal (Gr3 Kenilworth Champagne Stakes winner), Dancer's Daughter (multiple Gr1 winner and Champion Older Female 2008-2009), Takingthepeace (Gr1 South African Fillies Classic winner), Sabina's Dynasty (Gr2 Gerald Rosenberg Stakes winner), and Crimson Blossom (Gr3 Kenilworth Final Fling Stakes winner plus the mother of Dynasty's Blossom) will visit Canford Cliffs this season, along with forty other black type mares. We are very excited with the progeny he is throwing and we will continue to support him with high-class blood and thank breeders for their support," added Craig Kieswetter.
Read more about Canford Cliffs – click on the image below

‹ Previous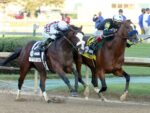 Super Saturday For Mischief