Despite the stepdown to Covid-19 lockdown level 1 becoming effective at midnight on Sunday 20 September, racing is likely to remain behind closed doors for the time being with existing restrictions on sporting events remaining in place.
The anomaly of social, religious, political and other gatherings being permitted, as long as the number of people does not exceed 50% of the normal capacity of a venue, up to a maximum of 250 people for indoor gatherings and 500 people for outdoor gatherings, may leave racing authorities with a possible window of opportunity.
Venues for exercise, recreation and entertainment – such as gyms and theatres – which were limited to no more than 50 people, will now also be allowed to accommodate up to 50% of their venue's capacity as determined by available floor space, subject to social distancing and other health protocols.
We await confirmation from the National Horseracing Authority and the racing operators as to what the position is from Monday.
There is progress in Britain, where Warwick has been given approval to be just the second British racecourse in six months to welcome spectators – but only up to 474 will be allowed in. Tickets will not go on general sale for Monday's meeting, with attendance split between annual members, hospitality bookings and racehorse owners.
Doncaster staged a crowd pilot a week ago, with more than 2500 spectators.
But local health officials barred racegoers from attending the following three days of the St Leger meeting.
Newmarket will also welcome spectators next week, with up to 1000 a day at its Cambridgeshire meeting from 24 to 26 September.
British Racing has taken place behind closed doors since 1 June after a 10-week suspension because of the coronavirus pandemic.
‹ Previous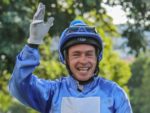 Vaal Classic Today