CK Horse Racing will be launching an investigation of their own after the disqualification, due to a  weight discrepancy, of the favourite Showdown Kid in the opener at the Vaal on Tuesday.
In a statement published on social media, CK Horse Racing state that as the training representatives of the horse Showdown Kid, that was disqualified after winning the first race at the Vaal race course on 1 September 2020 after an objection was upheld by the Clerk of Scales, we will be undergoing an investigation of our own, and of an investigation by the National Horse Racing Authority, into the dispute and decision.
They state further that at this stage, there is  absolutely NO evidence of villainy or misconduct from any party involved in this unfortunate incident.
"We are all massively concerned and take this offence very seriously.
We are dedicated to contribute anything necessary to keep the sport of Horseracing fair and honest, both by the authoritative bodies and by it's participants.
Our integrity and reputation is of the utmost importance to us, and our transparency to the public, and to the horse racing community has been a massive part of our mission statement from day one," concludes the statement.
South Africa's leading bookmakers Hollywoodbets came to the aid of their customers who backed the disqualified favourite via single win bets.
After passing the post first, an objection by the clerk of scales saw the 11-10 favourite  disqualified as her rider weighed in under the carded scale.
While there have been some bizarre suggestions as to the reasons for the weight variance, it appears that when work rider Vusunzi Sithetho weighed back in, it was at 700 grams lower than his carded weight.
Arnold Hyde, Racing Control Executive for the National Horseracing Authority, explained the rules governing the incident and the logic behind the disqualification.
"It was established the work rider weighed in at more than 0.5kg below the weight at which he was declared out. He weighed out at 60.2kg and was declared out at 60kg, and weighed back in 59.3kg. As a result, the clerk of scales lodged an objection," said Hyde.
"Viewing the patrol films we cannot see anything dropping from the saddle, so we'll open an inquiry and get to the bottom of this unfortunate incident."
‹ Previous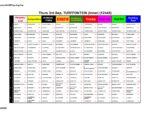 Turffontein Today – The Selections