When one takes into consideration that the majority of colts are gelded and make no further contribution to the gene pool, a well-bred filly has considerable residual value when her racing career is over. If she is by a stallion who is capable of siring superior fillies, so much the better.
An interesting trio of sires who currently fall into this category are Elusive Fort, Flower Alley and Duke Of Marmalade.
Elusive Fort had to establish himself the hard way.
Eschewed by breeders due to the stigma that locally-bred stallions are inferior to imported ones, the champion son of Fort Wood quickly showed he had what it takes when siring a Gr1 winning filly in each of his first two crops.
First-crop daughter Siren's Call won both the Gr2 Gauteng Fillies Guineas and Gr1 SA Classic and narrowly missed out on the Triple Tiara when going down by a neck to Pine Princess in the (then) Gr1 SA Oaks. Second-crop daughter Lauderdale proved more precocious and she capped her juvenile season with victory in the Gr1 Thekwini Stakes.
Last season's Gr1 SA Derby hero Out Of Your League is Elusive Fort's third top level winner. However, males are very much in the minority as no less than seven of his ten stakes winners are fillies. From the same crop as Lauderdale, Fort Ember captured the Gr2 Gold Bracelet and Gr3 Flamboyant Stakes, while chasing Liege hom in the Gr1 Sansui Summer Cup.
Secret Potion won the Gr2 SA Oaks, Freedom Charter (see story on page xx) notched up a Gr3 double in the Champagne and Poinsettia Stakes, Gr1 Garden Province third Elusive Heart counts the Gr3 Prix du Cap amongst her stakes treble, while Chitengo won the Listed Aquanaut Handicap. Although she failed to win a stakes race, it would be remiss not to mention Safe Harbour, whose string of Gr1 places includes seconds in all of the Cape Fillies Guineas, Maine Chance Farms Paddock Stakes and Wilgerbosdrift SA Fillies Classic!
Now based at Black Swan Stud, Elusive Fort has covered full books these past three seasons, in final recognition of his earlier achievements.
In contrast, Duke Of Marmalade has covered many fine mares since exchanging Coolmore for Drakenstein Stud in 2014 when his first overseas runners were four. At that stage, his best runners included the Gr3 winning fillies Venus De Milo (also second in both the Irish and Yorkshire Oaks), Wannabe Better and Quaduna.
However, within months of making South Africa his new home, Duke Of Marmalade's fortunes received a dramatic boost when he sired no less than four European classic winners, three of which fillies.
Simply Verse became a rare filly winner of the Gr1 St Leger, Star Of Seville won the Gr1 French Oaks and Sound Of Freedom captured the Italian 1000 Guineas. His son Nutan rounded out the classic quartet with victory in the German Derby. Two years later, another son, the fine stayer Big Orange, landed the Gr1 Gold Cup.
Remarkably, to date Duke Of Marmalade's locally-bred stakes winners are all fillies. While his first local crop included the classic winners Santa Clara (Gr2 KRA Fillies Guineas), Seville Orange (Gr3 KZN Oaks) and Duchess Of Bourbon (Winter Oaks), it was second crop daughter Temple Grafin who captured the Garden Province Stakes to become her sire's first South African Gr1 winner.
Wilgerbosdrift resident Flower Alley is likewise showing a strong hand with his fillies, the oldest of which have just turned four.
These include Fayrooz, who became his first local stakes winner when successful in the Listed Oaks Trial, whereas Marygold chased home Horse of the Year Summer Pudding in the Gr1 SA Fillies Classic and Pomander did the same in the Gr2 SA Oaks.
That Flower Alley's female runners appear to be superior to their male counterparts is underlined by the fact that all nine juvenile winners from his second crop were fillies.
To what can we ascribe the penchant of this trio to produce a high proportion of good fillies?
Perhaps it is the fact that all three boast strong female lines.
Elusive Fort hails from the fabulous Argentinian 'E' family, while Duke Of Marmalade is a grandson of the outstanding blue hen Lassie Dear. Flower Alley's female line is not to be sneezed at either, his fourth dam Dumfries being a half-sister to Lyphard. In fact, his dam Princess Olivia is inbred to Goofed, as her sire Lycius is out of a Lyphard mare.
‹ Previous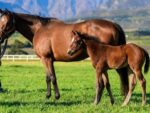 The Lancasters – Flying In Formation!