SA's leading bookmakers Hollywoodbets priced up SA Horse Of The Year Summer Pudding as early ante-post favourite for the Gr1 Gauteng Summer Cup, when betting opened this week for the R425 000 contest to be run at Turffontein on 28 November.
Sean Tarry bids for his fourth straight victory in the race and his fifth overall.
The SA Champion has 9 of the first 49 entries, including defending champion Zillzaal, who is at 14-1.
Aslan (2009), Liege (2017) and Tilbury Fort (2018) were Tarry's other winners.
| | | | |
| --- | --- | --- | --- |
| Horse | Price | Trainer | MR |
| Summer Pudding | 5/2 | Paul Peter | 117 |
| Got The Greenlight | 28/10 | Joe Soma | 124 |
| Charles | 25/2 | Mike De Kock | 108 |
| Queen Supreme | 25/2 | Mike De Kock | 122 |
| Tierra Del Fuego | 14/1 | Sean Tarry | 123 |
| Zillzaal | 14/1 | Sean Tarry | 120 |
| Youcanthurrylove | 16/1 | Fabian Habib | 114 |
| Crown Towers | 20/1 | Justin Snaith | 109 |
| Dance Class | 20/1 | St John Gray | 92 |
| Victoria Paige | 20/1 | Sean Tarry | 110 |
| Divine Odyssey | 25/1 | J A Janse V Vuuren | 117 |
| Running Brave | 25/1 | Paul Matchett | 114 |
| Hero's Honour | 33/1 | Gary Alexander | 112 |
| Like A Panther | 33/1 | Mike De Kock | 110 |
| Tristful | 33/1 | Tony Rivalland | 112 |
| Akwaan | 40/1 | Mike De Kock | 92 |
| Ballet Shoes | 40/1 | Candice Dawson | 109 |
| Chitengo | 40/1 | Alec Laird | 110 |
| Expressfromtheus | 40/1 | Stuart Pettigrew | 101 |
| Green Haze | 40/1 | Alec Laird | 116 |
| Pack Leader | 40/1 | Alec Laird | 109 |
| Ronnie's Candy | 40/1 | St John Gray | 117 |
| Dawn Assault | 50/1 | St John Gray | 110 |
| Tilbury Fort | 50/1 | Sean Tarry | 107 |
| Alibi Guy | 66/1 | Mike De Kock | 98 |
| Atyaab | 66/1 | Zietsman Oosthuizen | 115 |
| Cornish Pomodoro | 66/1 | Sean Tarry | 102 |
| D' Arrivee | 66/1 | Candice Dawson | 104 |
| Dark Moon Rising | 66/1 | Paul Lafferty | 103 |
| Factor Fifty | 66/1 | David Niewenhuizen | 107 |
| Imperial Ruby | 66/1 | Corne Spies | 107 |
| Keep Smiling | 66/1 | Sean Tarry | 105 |
| Orpheus | 66/1 | MG/AA Azzie | 104 |
| Seven Patriots | 66/1 | MG/AA Azzie | 96 |
| Western Fort | 66/1 | Paul Peter | 101 |
| Full Mast | 80/1 | MG/AA Azzie | 102 |
| Shenanigans | 80/1 | Sean Tarry | 95 |
| Cash Time | 100/1 | Ashley Fortune | 103 |
| Christopher Robin | 100/1 | St John Gray | 96 |
| Master Supreme | 100/1 | Candice Dawson | 95 |
| Snow Palace | 100/1 | Corne Spies | 104 |
| Sunshine Silk | 100/1 | David Niewenhuizen | 103 |
| Tree Tumbo | 100/1 | Sean Tarry | 97 |
| African Adventure | 150/1 | Joe Soma | 81 |
| Category Four | 150/1 | Grant Maroun | 86 |
| Hellofaride | 150/1 | Mike De Kock | 85 |
| Our Coys | 150/1 | Joe Soma | 79 |
| Sworder Street | 150/1 | Paul Peter | 92 |
| Nebraas | 150/1 | Sean Tarry | 84 |
‹ Previous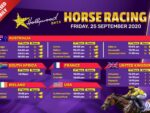 TGIF! Lots Of Racing On The Menu