Super Six Racing is staging its Inaugural Raceday at Hollywoodbets Greyville on Wednesday 16 September 2020.
This Inaugural Raceday will encompass six races in the prescribed Super Six Racing format over distances of 1200, 1600 and 2000 metres.
The overall Raceday winning team will receive a first place prize of ZAR50,000 with a further prize of ZAR20,000 awarded to the runners up.
Super Six Racing aims to reach beyond horse racing's current traditional fan base to gain worldwide recognition as an independent sporting product that is readily accessible to consumers across all demographics – particularly in markets where the gambling prohibition has, to date, denied the sport an opportunity to prosper.
The Super Six Inaugural Raceday will be broadcast live and, additionally, Super Six will further utilise supplementary cameras to create a bespoke production package that will be presented to both potential broadcast and live streaming partners worldwide.
This production package will be co-presented from the Royal Box at Newbury Racecourse in the UK by Nick Luck and Aly Vance together with commentary by Richard Hoiles.
The International award-winning team at Equine Productions will produce the programme.
The Super Six broadcast team from ICILY LIVE will work in close collaboration with the same Gold Circle TV lineup that recently produced the much-lauded online broadcast of the 2020 WSB Gold Cup meeting.
The Super Six Inaugural Raceday is expected to showcase and create significant interest in South African horse racing to new international audiences.
Super Six is delighted to announce team sponsors for this exciting and ground-breaking inaugural Raceday and their colours as follows:-
| | | | |
| --- | --- | --- | --- |
| Team | Body Colour | First Cap | Second Cap |
| Autoimmune Warriors | Pink | Pink | Purple |
| Drakenstein Stud | Light Blue | Light Blue | White |
| Dromex | Yellow | Yellow | Black |
| Team G Racing | Red with Yellow Circles | Red | Yellow |
| Klawervlei Stud | White | Green Spots on White | White Spots on Green |
| Summerhill Equine | Red, White and Blue | Dark Blue | Grey |
Following on from the Inaugural Raceday, Super Six and Gold Circle will be working towards staging the first full series of Super Six Racing.
Finally, Super Six Racing recognises Gold Circle and thanks all team sponsors for their outstanding support in such difficult and unprecedented times – without which this Inaugural Raceday would not be possible.
Media release by Super Six Racing
‹ Previous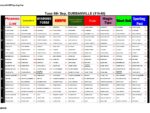 Durbanville Racing – All The Selections