Despite COVID19 restrictions, the $20 million Saudi Cup will return for its second running on 20 February 2021 and Vaal trainer Corne Spies hopes to have two runners on the richly endowed programme.
Dual Gr1 winner Van Halen (Oratorio) and the recent Gr2 Golden Horseshoe victor Nourbese (Futura) have already entered quarantine in Johannesburg for the long trip via Mauritius and Europe into the East.
The pair cost R240 000 between them and have the opportunity to advertise the great value of South African horses on the world stage.
The Sporting Post hopes to interview SAEHP's Adrian Todd for an update on the export protocol situation as it was announced in June that an EU audit was imminent. Our borders opened on Thursday 1 OIctober for international visitors again.
Corne Spies told the Sporting Post that the Saudi adventure could also represent an opportunity to take in the opportunities in Dubai.
The UAE fixture list for their 2020/21 season boasts 66 race meetings at the UAE's five racecourses including Meydan, Jebel Ali, Abu Dhabi, Sharjah and Al Ain.
Jebel Ali Racecourse and Sharjah Longines Racecourse will commence their seasons on Friday, October 30 and Saturday, October 31 respectively.
Meydan Racecourse, home to the Dubai World Cup and the Dubai World Cup Carnival, gets under way on November 5, while Abu Dhabi Racecourse will commence their season on Sunday, November 8.
Meydan's season will have 19 meets, Abu Dhabi 15, Al Ain 14, Jebel Ali 11 and Sharjah 7.
The popular Dubai World Cup Carnival, comprising ten high-quality international race meetings, will commence on January 7, 2021 and will culminate with the Dubai World Cup on March 27, 2021.
For the first time in its history, the new season will start and conclude at Al Ain Racecourse with the opening meeting scheduled for October 29, 2020. The final meeting will take place on April 9, 2021.
But the big Saudi meeting will be Corne Spies' main target.
Prince Bandar Bin Khalid Al Faisal, chairman of the Jockey Club of Saudi Arabia (JCSA) said:
"It's hard to overstate the success of Saudi Cup 2020 when you consider that in year one of a brand-new international racing event, we attracted some of the very best horses, trainers, and jockeys in the world. We witnessed 22 individual group or Gr1 winners, who had accumulated an impressive 34 wins at that level between them. That would be an excellent statistic for even the most well-established race meetings in the world, let alone to have that calibre in year one."
The 2020 Saudi Cup was won by Maximum Security, however the JSCA has withheld payment of the prizemoney to the winning owners pending an ongoing inquiry into doping indictments lodged in the US against Maximum Security's former trainer, Jason Servis.
‹ Previous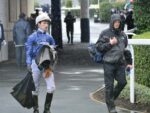 Top Jock Denies Drug Use