While it is encouraging to see our Stipes now exercising discretion when meting out fines for whip use indiscretions, a leading British owner is going to court to try and ensure that winning jockeys are disqualified for contravening the crop rules.
At Hollywoodbets Greyville on Wednesday, jockey Muzi Yeni got off with a rare warning when he signed an admission of guilt for a contravention of Rule 58.10.2, after striking the unplaced Born A Lady more than 12 times during the second race.
The discretion not to slap the former Northern Cape Champion with a random cash fine was commendable in this case – Muzi struck the filly 13 times and his record with zero past offences was taken into account.
But on the flipside of the coin, Sean Veale won the last on Naoshima when contravening the same rule.
The winning margin was 0,40 lengths and only 0,55 lengths covered the first six home.
The fact that Veale won, that he used his whip 15 times, and has only transgressed the rule twice, counted towards his R1500 fine.
But his commission on the first cheque of R43 750, in addition to his riding fee, far outweighed the mathematical impact of the fine. But that's how our rules work – there is no scope in the rules for an objection.
British owner Kulbir Sohi believes disqualification is the only means to rigorously ensure all jockeys ride within the rules.
Sohi told the Racing Post on Monday that he had appealed the result of the £75,000 Coral Sprint Trophy at York in which his horse Tranchee, the 9-2 favourite trained by David Loughnane, finished second to Gulliver, ridden by Martin Harley.
Harley, who received £3,268 in prize-money for the victory, was fined £1,350 and suspended for nine days after using his whip 12 times on Gulliver inside the final two furlongs, five strikes above the maximum of seven permitted in a flat race in Britain.
Sohi is adamant that the penalties are an insufficient deterrent against misuse of the whip and stronger measures are needed to protect the "integrity of the sport".
"To overuse the whip to my eye is performance enhancing," he said.
"If the horse had been given performance enhancing drugs then this wouldn't even be a conversation, but having a performance enhancing use of the whip – and the horse is clearly responding to the whip – then it should be the same argument.There's no deterrent there for riders and if [Harley] felt he was on the best horse in the race why would he need to use the whip more than the rules allow? We won the race within the rules and he has gained an advantage to win the race, so it's had a material impact. They're toothless at the moment the rules – they're a joke.As long as everyone had played by the rules I'd accept the defeat all day long, but we all have to play by the same rules."
‹ Previous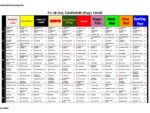 Fairview Today – All The Selections