The unprecedented suspension of a licenced Stable Employee and Colour holder from attending racemeetings, based on prima facie evidence after an incident at Turffontein on Saturday, has raised the question as to whether the individual has effectively been found guilty in advance of an opportunity to be heard?
And why this particular matter warranted such extraordinary immediate action?
In a  media release the NHRA state that after carefully considering the prima facie evidence, the provisions of Rule 91.2 have been enforced and an interim suspension has been imposed on Mr Andrew Fortune, a licenced Stable Employee and Colour Holder.
The sweeping rule states:
Pending the determination of an inquiry or any appeal arising from any inquiry in terms of the rules, the National Board, or in exceptional cases where in the opinion of the Chief Executive or Racing Control Executive, urgent intervention is required the Chief Executive or Racing Control Executive, may impose such interim suspension or suspensions on any person or in respect of any horse as they in their sole discretion deem fit.
Prima facie evidence is broadly defined as that which is based on the first impression.
While we are not appraised of the full facts, it is arguable that Fortune, a former SA Champion Jockey, finds himself subjected to commendable decisive action by the NHRA's executive management of the level that does not appear to have been imposed in similar incidents in the recent past.
A senior racing man, who chooses to remain anonymous by virtue of his position, expressed the opinion on Monday that the NHRA could just as well have requested Mr Fortune to make a written undertaking, without prejudice, that he will not act in similar fashion, pending the inquiry.
"If he had declined this, then the NHRA may have had grounds to exercise caution and to implement their interim measures under 91.2 in the interests of protecting both parties. At arm's length, it may seem drastic, given the status of some of our past offenders, that Fortune – who is not a serial offender to my knowledge – has been singled out for this apparent 'special' treatment," he added.
The parties allegedly involved in Saturday's incident inevitably cross each other's paths in the course of a raceday and, on the flipside, no action by the NHRA could just as well also have been questioned.
So whichever way one looks at it, due process can be a fragile ornament.
But at least Mr Fortune gets the opportunity to perform his duties at the Fortune Racing Vaal base.
It is hoped that the inquiry will be heard in the next two or three weeks.
‹ Previous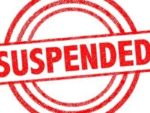 Turffontein Incident – Inquiry Opened