There is an interesting story and a team effort behind the recent success of four-year-old gelding Fort Agopian who, having exited the Maiden ranks at Durbanville six weeks ago, followed up with a fast and eye-catching MR88 success in an 1800m contest at the country course on Tuesday.
When the pens opened, Fort Agopian scooted away like a rabbit caught in headlights under 2.5kg claimer Joshwin Solomons, and never looked in any danger of losing his lead.
Fort Agopian had 4.5-lengths to spare at the line over Jailhouse Rock, winning in a way one would expect from a horse backed from 14's to 3-1!
He clocked a class record 109.36s, more than 3s faster than Red Lark, the winner of a MR72 handicap just half-an-hour earlier.
"He was working really well before this race," said Michelle Rix, who trains Fort Agopian with her dad, Harold Crawford, for owners Dr Brandon Arrison and Messrs Ashwin Reynolds and Anthony Sham.
"We've been down a long road with Fort Agopian and it's a wonderful relief to have him on the winning track. We're hoping he can step up a division now and go on to bigger things."
Rix praised equine behaviour therapist Malan du Toit, his assistant Madoda Lumkwana ("Jackson") and jockey Oswald Noach for their work behind the scenes.
Du Toit recalled: "We've been working with Fort Agopian from the beginning, because he's been troublesome from the start of his career and Michelle is not one to hesitate, she always calls for assistance before the problems get bigger!
"From the day he stepped into the stable he was a very active horse, one who wants to run and get on with things. But it became a problem and we had to deal with his flight response – the need to break away and run – and then control the issue.
"He was also a headache behind the pens, he wanted to do his own thing, a busy horse. This sapped his energy, and his fractiousness was bound to cause trouble for others in a race.
"Jackson and Ozzie Noach spent hours with him. Ozzie is a fearless guy, he helped to get Fort Agopian under control and was able to manage him.
"He had two fair runs to start off, and we expected improvement in his third, a Maiden at Durbanville in August last year. But when jockey MJ Byleveld dismounted him at the start, his bridle broke and he got away.
"He ran hard and fast, jumped over a rail to the inner course and then jumped the rail back to the course again. When he caught him, he'd injured himself, he'd suffered a bad cut and had to be treated and rested for several months."
Fort Agopian returned in February, having recovered from injury, and Du Toit said that the schooling process had to start from scratch.
"We had to re-school him at the pens and slowly start him off again, trying to control and manage him. The work was intense, he got back to the track and ran a few places, but he wasn't where we wanted him to be.
"As it happens sometimes, via trial and error, we discovered that Fort Agopian preferred to be close to the starting stalls during the loading process. Initially we tried to keep him far back, a distance away from the other horses, but in due course he showed himself to be far more relaxed when he was right behind the pens before the loading started.
"He was taken to the races last month, he loaded well after milling around close to the pens with the others. He jumped well too and won a good race, and his second win is now history. I am very pleased for the team."
Rix added: "My father selected Fort Agopian at the BSA KZN Yearling Sale at Sibaya, we got him for only R40,000 at a time when Elusive Fort wasn't fashionable. We were lucky because he was a standout yearling.
"There are more people to thank. Dr Manfred Hanni stitched Fort Agopian up after his injury, the cut went through skin and muscle. Gwen McGregor applied her Equiscope to the scar that was left. His owners have persisted, they've been patient and understanding and have now been rewarded, and there's a chance he'll go on from here."
She concluded: "In hindsight, the injury did give Fort Agopian time to mature, physically and mentally. He's a big horse, but his frame was light. He's more mature now."
Fort Agopian was raised at Hemel N Aarde Stud. He was bred from the mare Souwester, by Windrush. His record shows two wins and three places from 8 starts, with R77,200 banked.
‹ Previous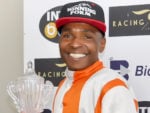 Ndlovu Appeal Succeeds In Part