On a good day for South African connections, trainer Ricardo Le Grange took out the SG$50,000 Class 4 Division 2 race over 1000m on Saturday at Kranji with the Guy Shirtliff owned California.
Jumping on terms, California was sent straight to the head of affairs by Apprentice Jockey Krisna Thangamani.
Supper Posh (JP Van Der Merwe) loomed at the 200m but was not match for the gutsy son of Written Tycoon who won going away by 2.5 lengths
"A great ride by stable apprentice Krisna, and what a pleasure to train winners for gentlemen like Guy and Marsh Shirtliff! I must say a special thanks to Jacci and Kalsey for their hard work behind the scenes and jockey Noh Senari, who does most of the track work on this fella " said a pleased Ricardo Le Grange.
In another SA connection race, trainer James Peters was a happy man after Mandrake emerged as the first winner from a pioneer group of Argentinian-breds raced by a new syndication group.
The Englishman was not so thrilled 10 months ago when the shipment was caught in the wrong place at the wrong time.
The plane they had boarded was grounded in Buenos Aires after it was searched and a stash of 80kg of cocaine was seized.
Unfortunately, the drug bust made headlines around the world, with Peters' five horses the unwitting fellow passengers to the unsavoury cargo.
That unfortunate and rather bizarre episode is now done and dusted, especially after the five stranded horses finally landed one month later than scheduled.
With four of them unraced youngsters, Mandrake, a five-year-old by Not For Sale, was by all accounts the one who would be the most likely to give the new group headed by South African racing manager Justin Vermaak a first toast to forget the Buenos Aires debacle.
‹ Previous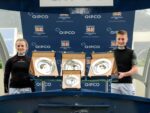 Jockey Couple Dominate Ascot Big Day