It's a 'given' that punters like to follow tips. But on Saturday you had to feel for the poor punters who followed the R48 place accumulator perm by the TAB Daily Tipping Sheet which was shown time and again on Tellytrack before the first leg, writes Dave Mollett in the Sporting Post Mailbag.
Somehow, whoever does these tips, believed Mike De Kock's hot favourite, Malmoos, wouldn't make the first three.
He or she selected Miss Elegance (giving the favourite six kg – no chance) and Tanzanite Queen.
Those tipsters previously employed by Tellytrack must have shaken their heads in disbelief.
On the soccer front, it would have been interesting to get the expert view of Shane McGregor on the Everton versus Liverpool derby. He has taken his dismissal case to the CCMA – the outcome will be important to many contractors.
MOD has been as quiet as a church mouse since their victory. Time for them to show some muscle – particularly in Rivonia.
‹ Previous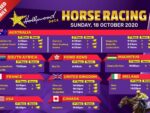 Sunday Racing Programme