An outbreak of African Horse Sickness (AHS) in Germiston has already put a dampener on horses travelling to Cape Town for the summer but a change to the quarantine regulations at Randjesfontein could have exacerbated the problem even further.
And with Princess Calla winning the Grade 2 Western Cape Fillies Championship over 1400m at Kenilworth on Saturday, it would surely have tempted Stuart Pettigrew and Weiho Marwing to consider raiding Kenilworth for the Grade 1 Cape Fillies Guineas in December.
The Adam Marcus-trained filly finished a 3.30-length third behind Anything Goes in the Grade 1 Thekwini Stakes over 1600m at Greyville in August with War Of Athena a 0.30-length second in the same race.
Trickster, who ran fourth in Durban, finished in second spot behind Princess Calla on Saturday.
While a quarantine station has been set up at Randjesfontein to assist the trainers, the decision to move the goalposts may end up killing any trips to Kenilworth.
"The protocol has always been that you could work horses from two hours after sunrise until two hours before sunset," explained Mike de Kock. "However, that has been changed and we can only work horses after 10.30am.
"We have received no explanation for the change.
"Horses are creatures of habit, and by changing their regular routines you are taking them out of their comfort zone."
He added that they now have to work in the heat of the day which is most unsuitable.
"First and foremost, we must take into account the welfare of our horses and having to work them in the heat for four or five hours is counterproductive.
"I know I sound luck a stuck record, but I find this new decision just bizarre. Ï still think we can get by with the two hours after sunrise until two hours before sunset, but under the new rule, it will just be a waste of time to travel all that way."
The restriction on the movement of horses will stay in place for 40 days and will be lifted if there is no further outbreak reported.
So the best hope for trainers is that there are no further AHS cases and then they will be able to travel freely to the Cape.
"I have had a lot of success raiding in the past but I will only go if I feel it does not have a negative impact on our horses," said De Kock.
‹ Previous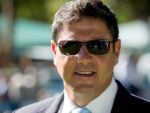 Tarry Can Break Charity Ice