A son of Lope De Vega was the star turn when selling for 675,000 guineas on a remarkable second day on Tuesday of Book 2 of the Tattersalls October Yearling Sale, which saw nine lots sell for 300,000 guineas or more, taking the two-day total to fourteen, three more than last year's three-day total.
Anthony Stroud continued his buying spree on the second day of Book 2 of the Tattersalls October Yearling Sale, securing the Lope De Vega colt out of the Galileo mare Loch Ma Naire for 675,000 guineas.
"He is bred on a successful cross – Lope De Vega ex Galileo – he is an attractive horse and beautifully bred, and Lope De Vega has done incredibly well," said Stroud, after buying on behalf of Godolphin.
The colt's dam is a half-sister to the dual Gr1 winner Simply Perfect and was offered by Newsells Park Stud on behalf of breeder Andrew Stone's St Albans Bloodstock.
With the global bloodstock industry perhaps better insulated than expected since the onset of COVID-19, particularly at the top end of the market, fireworks are expected for several sought after lots across Tattersalls October Yearling Sale (Books 2 to 4) this week.
800 lots will go under the hammer across the 3 sessions, with bloodhorse.com noting that the six-figure momentum from the recent Book 1 is likely to keep rolling.
Tattersalls marketing director Jimmy George enthused, "It would be fair to say that Book 1 went an awful lot better than people either feared or expected. It was 20% down on turnover, which, by global standards, is a huge result compared to what we've seen so far, and the average and median were down less than that to levels of 2015-16."
George added, "I think it was a measure of the quality of the horses, the reputation of the sale in terms of being targeted specifically by buyers who were restricted, or felt restricted in the number of sales they could attend, and various factors at play."
Market buoyancy has been bolstered by new and emerging buyers as well as the unimpeded influence of the Gulf region.
From a US and southern hemisphere perspective, George also confirmed, "The Americans were fantastic again, and that's success driven—as is the focus of Australian interests, who were very busy through the week, and that will hopefully filter into Book 2 as well."
Watch the sale live here
‹ Previous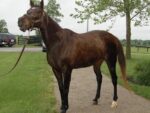 Ipi's Lapping Up Retirement