The world's richest turf race will be run at Randwick on Saturday morning. For South African owners in the current times, the thought of running last of twelve and earning the equivalent of R5,3 million must sound like a pipe dream from a parallel universe.
With the stakes upped to A$15 million at its fourth running, the 1200m The Everest is Australia's richest race.
Trevor Marshallsea reports on Foxsports.com.au that it will make some people filthy rich, but, as it has done through its brief history, will also divide its fans from the racing purists who argue it all feels a little bit forced, concocted and over the top; that you can't create prestige just by throwing obscene amounts of money at something, particularly when some lucky connections will come away with millions for beating a field which this year isn't exactly screaming with quality.
Still, you could say it sums up brash and brassy Sydney to a tee.
Melbourne's jewel in the crown, the Melbourne Cup, involves 24 horses toughing it out over 3200 metres at Flemington in what is Australia's greatest and most enduring cultural institution, plus there's the intrigue of tactics and international horses.
Sydney's gold-toothed new kid on the block, The Everest, is a scamper for the speedy that's all over in about 68 seconds. And because of its gimmicky nature, which we'll explain later, it can't even be given Group status, the label applied to distinguish the best races the world over for many years now, as in Group 1, 2 or 3.
What's inescapable, by any measure, is that The Everest represents the biggest jolt the Australian racing scene has felt for years.
And when the gates fly open again on Saturday, it will be compelling viewing.
It's held under weight-for-age conditions, the acknowledged drawcard for top-class gallopers, in which weights are allocated according to age rather than on form, as in handicaps like the Caulfield and Melbourne Cups. Mares carry two kilos less than males in the same age category, and thus we have six-year-old gelding Nature Strip at the top of the field with 58.5kg, and three mares at the bottom with 56.5.
Copied from the home of all things bold and brash, the USA, The Everest works under an unusual entry fee structure.
A person, or entity, can decided to become a slot holder, buying said slot (after approval from authorities) for A$600,000, which helps fund the whole shebang.
So while A$450,000 is a lot for running last, it still represents a loss on the whole deal of running.
So too does anything running sixth (A$500,000) or worse.
Having bought their position, slot holders will then nominate which horse will fill their spot, and work out with that horse's owners what sort of deal they'll make for the sharing of spoils.
Therefore, the field isn't brought together by regular means, under long-established patterns, and therefore no Group status.
The said slot holders including breeding industry giants such as Godolphin, Coolmore, the TAB, The Star casino, and smaller concerns such as James Harron Bloodstock, and trainer Chris Waller, who prepared Winx.
If you're not one of the 11 000 or so allowed in under a special exemption from Covid restrictions, catch it here in SA on Tellytrack (Dstv 249) as Race 7 of 10 on the Randwick card, on Saturday at 07h15.
‹ Previous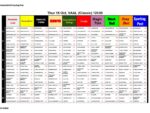 Vaal Today – All The Selections