Tune in to Tellytrack DStv channel 249 for live coverage from 09h00 of the second tranche of gallops for the 2020 CTS Ready To Run, Unbroken 2 Year Old & Mixed Sale
There will also be live coverage on www.tellytrack.com
The sale will be held online on Sunday 29 November, in partnership with Gavelhouse.com.
For the first time, this year, the auction will include 93 unbroken two-year-olds which also qualify for the RTR race, as well as 12 lots in a Mixed Sale Section.
As per custom, potential buyers will have an opportunity to watch the pre-trained entries gallop.
The gallops preceded by a champagne breakfast, and open to all.
Horses will be available for viewing after the gallops.
For more information, contact:
‹ Previous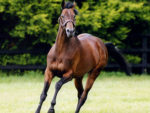 Arc Winner's Descendants Impress In 2020