You make your bed you sleep in it. The NHRA handicappers' likely overrating of last season's 2yo Graded form, particularly that of the KZN winter season, could provide them with a poser when they sit down to unravel the past weekend's features.
I am glad that I am not in Lennon Maharaj's shoes when an official rating is allocated to the runners in the 3yo features run on Saturday, writes Steve Reid in the Sporting Post Mailbag.
The Peermont Emperors Palace Ready to Run Cup is going to be the source of much debate, regardless of the inevitable spin that will undoubtedly follow to justify the adjustments.
The recent lowering of Thumbs Up rating when dead-heating with her stable companion, has exposed the handicappers as suffering from Dyscalculia – when the situation suits them.
That dead heat must be causing sleepless nights after the ridicule heaped on them for the inexplicable subsequent official ratings of the dead-heaters.
Enough has already been said about this – with absolutely no explanation provided publically from those who believe they have no mandate to anyone to explain their actions.
Let's get back to Saturday's Ready To Run Cup.
In my very humble opinion, the obvious form horse is the runner up, War of Athena (WOA).
This very smart filly has solid form in all the races she has contested, the strongest being her second to Anything Goes in the Gr1 Thekweni Stakes at Hollywoodbets Greyville on WSB Gold Cup Day.
This form was franked in no uncertain terms by Anything Goes pulverising her open company opposition in the Joburg Spring Challenge in her subsequent start.
WOA's form is also backed up by a close up third in the Gr1 Allan Robertson.
A wide draw could quite possibly have led to her short head defeat by MK's Pride on Saturday.
MK's Pride is clearly no slouch, and is well thought of by the Peter stable – so the win was no flash in the pan and the betting indicated that quite clearly, with the horse strongly supported.
The question that needs answering now is  – should WOA be chosen as the line horse?
The run of Afternoon Tea on Saturday points to this being a form run by WOA as the Fortune filly finishes 7 lengths behind (officially 6,95 lengths, so as close to dammit ), and is rated an exact 14 points inferior.
Happy days!
If WOA is accepted as the line horse, things start to get interesting in a very big way.
MK's Pride beat the 111 rated WOA by a short head so could feasibly be raised to a 116.
Or even maybe a 113 if previous parameters are followed?
But the problem for the handicappers arises with the third horse, the unrated maiden Flying Carpet, who finished half a length behind the winner and carrying 2,5kg MORE than the 111 rated WOA.
Maths was something I excelled in at school, and simple arithmetics then dictates that this horse receives a 115 rating.
I will take poison that this will never happen – even though it is clear as daylight that this rating has been earned by the horse, using handicapping guidelines. If a maiden winner in PE can be rated 113 and then adjusted to a 105, then this can be a maiden 115 all day long.
Let's talk some collateral facts.
There were four 3yo's in this year's delayed Vodacom Durban July. These horses officially turned 4 the following week due to the late running of the race.
Their ratings pre the July race were:
Got the Greenlight MR118 ( 3 x Gr1 winner)
Shango MR 116 ( Gr2 winner and multiple Graded places)
Golden Ducat  MR115 ( Gr1 winner and multiple Graded places)
Padre Pio MR 115 ( 2 X Graded placed)
So could we justifiably rate a maiden a 115 when we see what last season's flag-bearers were rated?
Let's also just put something out there as a marker to the strength of Saturday's Ready To Run race as these restricted races are often, and rightly so, seen as inferior quality fields.
The top three in the RTR ran faster times than the winners of both the Graham Beck and the Starling Stakes.
Time is merely an indicator. However it does indicate that this was a decent quality trio who appear to be way above average, something highlighted by the fourth horse being 6,5 lengths behind the maiden 3rd placed runner.
Is the problem the handicappers sit with, perhaps not that of overrating last season's 2yo Graded form, particularly that of the KZN winter season? It seems blindingly clear to me.
I look forward to the fairy tales – they are always amusing.
‹ Previous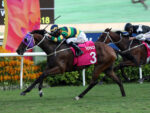 Magic Man Grabs Ladies' Purse