Charismatic Vaal trainer Romeo Francis passed away last week after spending the best part of 45 years of his life around horses.
A 'great raconteur and a man I'd go to war with', in the words of his colleague and good friend, St John Gray, Romeo Francis was 58 years old.
While he gave up smoking over thirty years ago, and didn't drink as he suffered from diabetes, a reluctance to heed medical advice saw the proud and dignified man's health decline steadily over time.
He passed on from a suspected heart attack late on the evening of Tuesday 10 November.
Romeo Francis was born in Johannesburg on 7 December 1961 and was the youngest of six children.
With the passing of his Dad in 1974, he left school in standard 5 to spend what would be the rest of his life working hard – including amongst his first love, horses. He initially worked alongside his Mom in a bakery, where he would be awake in the early hours, kneading the dough.
Top Gauteng trainer and a neighbour, St John Gray described Romeo Francis as a man he always viewed with great admiration.
"He was the epitome of a salt-of-the-earth gentleman, who never had a nasty word to say about anybody – and who could dish out opinion and critical thought in a way that all sides would see the humour. He could laugh at himself and had a rare self deprecating knack that would endear himself to anybody listening."
St John told the Sporting Post how, for instance, it was classic to listen to Romeo dishing out instructions to a jockey – who was told to give the horse a chance, to sit in, get it out, not to run wide (from a 14 draw!), and that the horse's form was all wrong.
"In the race Romeo would be watching grimacing and saying things like – I meant give the horse a winning chance!"
Years ago when St John won the Queen Of The Sand at the Vaal with his smart galloper Formation, Romeo had a winner on the turf a few days later.
He quipped in his Tellytrack post race interview: "St John might be the queen of the sand – but hey, I'm the king of the turf!"
While they were originally acquaintances, their friendship cemented over the years and it was Romeo who trained the dam of St John Gray's crackerjack champion, the 2011 Summer Cup winner, Dancewiththedevil.
"Romeo bought Emperor's Warning from the Alexanders and he did well – including getting a stakes place – with the daughter of Caesour. I bought her after he put her up for sale following a knee injury," said St John who also fondly recalled the old-fashioned phrases that Romeo always brought into his conversations.
"Never in history, was one of his favourites. Then there was that line the old shopkeepers used to use – 'no change, take chappies'. With him, you got what you saw – nothing more, nothing less."
Besides being a rare racehorse trainer who never went home after work to sleep or play golf, Romeo Francis kept the home-fires burning by buying and repairing motor vehicles.
"I had such great admiration for the man. He stopped training for outside owners years ago. And thus subsidised his passionate love of his horses with the trading of the cars. He was always on the go. He left the stables and was at the auctions. He didn't hang around for life to pass him by. And shew, he could cook too! His kibbeh and pork belly was legendary," recalled St John.
Romeo's partner of close on fifteen years, Chantal Bowles, who told the Sporting Post that she is hopeful of continuing with the stable, says that their best horse in recent years was Palace Of Dreams, who won the 2019 Gr3 Pretty Polly Stakes before being sold to the Mike de Kock team.
The Ridgemont Highlands-bred flyer was the first stakes winner for her Gr1 winning sire Potala Palace and cost just R15 000 at the BSA National 2yo Sale.
"He was always playing down his achievements. He never bragged about buying a dirt cheap stakes winner. I think he told me that he went looking for another horse to buy at that sale, but landed up with this filly. Such was the humility of the man. And he did really well with her," added St John.
Watch Romeo's special moment here
Romeo is survived by his fiancé Chantal Bowles, his three adult children, Gavin, Stephanie and Bradley,  two older brothers Ralph and Robert, and sisters Rose and Yvette. His brother Raymond passed on recently.
A funeral service will be held at 10h00 on Thursday 19 November at Our Lady Of Lebanon Maronite Catholic Church, Mulbarton

The address of the church is 8 Blougom Crescent, Liefde En Vrede – Phone: 011 432 5331.

In view of the lockdown protocols, attendance is limited to 100 people. If you wish to attend, please phone or whatsapp Chantal Bowles on 082 257 6038.
‹ Previous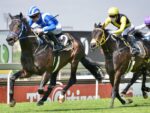 De Kock Ventures Into The Lion's Den