Dean Kannemeyer assumed the mantle of the Cape Guineas 'King' when he saddled his sixth winner of the prestigious Cape classic this century – and his longest priced victor to date – as the flashy grey Russian Rock overcame the odds, and an awkward take-back close to home, under journeyman Grant Behr, to cause an upset in a race loaded with some big new generation stars.
Mike de Kock's unbeaten Gauteng star Malmoos and Vaughan Marshall's local hometown hero Seeking The Stars hogged the R750 000 Cape Racing Gr1 Cape Guineas betting boards in the build-up and the early stages of the 1600m classic.
But both were sent home empty-handed as Kannemeyer delivered a classic Christmas package for a top owner partnership of Ian Longmore, Marsh Shirtliff and Bryn Ressell.
Between De Kock, Marshall and Kannemeyer they have won 11 of the 20 Guineas run this century and the last mentioned was clearly pleased to have edged ahead of his colleagues, after a few years where Gr1 winners have not been easy game.
"Vaughan (Marshall) I still hold the record for you,"he chirped after a sensational victory that knocked most Pick 6 players out of the park.
Kannemeyer, who took over the powerful family operation from his late Dad PK some twenty years ago saddled his first Cape Guineas winner in 2005 with Rabiya – he followed up in 2006 (Express Way), in 2008 with Le Drakkar, 2009 (Noordhoek Flyer) and his last prior to Saturday was in 2012 with present day sire, Capetown Noir.
So it's been a while between drinks for the horseman, who now also operates a successful satellite base at Summerveld in KZN.
"This was our test for Russian Rock to tell us where he fitted in the 3yo scheme of things. He has been brought along quietly since his winning winter debut at Durbanville. He didn't share the profile of the more fancied runners. But his work has been good and I'm thrilled he delivered for three of the most loyal owners in the game. And to Klawervlei and John Koster – they bred a lovely horse," he added.
The R200 000 National Yearling Sale purchase was selected by Marsh Shirtliff on conformation, colour and pedigree.
A man who owned his last Cape Guineas winner when the brilliant big earning Jay Peg won in 2007, Shirtliff was a major force in the first decade of this century, but has not enjoyed quite the same good fortune of the Pocket Power and Jay Peg salad days, in the past few years.
"I thought I'd lost the 'Marsh Magic'. But it's great to be winning a Gr1 again. I hope this horse can take us places and, while I watched him the whole way, I thought he'd be a better Derby horse. So this is very nice," he added.
A breathless Grant Behr showed ice-cool confidence after having to take his mount back at about the 250m marker as he found nowhere to go between two Marshall runners, including the super game runner-up, Linebacker.
In a stamped to the wire, Behr got Russian Rock (100-1) to lift again and the son of Pomodoro stormed up the outside to catch Vaughan Marshall's Linebacker (20-1) at the line and register a dramatic neck victory in a time of 100,07 secs.
A first Gr1 winner for Behr!
"I knew I would have to relax him. He is quite a strong horse and he was on that bit – but we were in a good position. If it wasn't for that incident he should have won easier. He had so much running when he got done. A big thanks to Mr Kannemeyer – he has always had some hope for me," said the man who has had a tough few years, with rides being hard to come by.
Another of the Marshall quintet, Rascallion (33-10) stayed on well for third, with Jet Dark (33-1) flashing late and the first Snaith horse home in fourth.
The fancied runners failed. Seeking The Stars may have found the mile a bridge too far – he finished a 2,15 length sixth, while the favourite Malmoos appeared to have every chance and ran ninth – under five lengths adrift.
The Klawervlei bred winner is a son of Jet Master stallion Pomodoro, out of the UK-bred Proclamation mare, Elisium.
TEMPTING FATE (S Veale) and HOEDSPRUIT (P Strydom) pulled hard in the early and middle stages.
At the 250m RASCALLION (A Domeyer) was forced to check and made contact with the hindquarters of CONTACT ZONE (S Mbhele) when cramped for galloping room on the outside of MALMOOS (*L Ferraris) which shifted out. An Inquiry will be held into this incident. Thereafter MALMOOS (*L Ferraris)  had to steady when close to the heels of SEEKING THE STARS (L Mxothwa), which was hanging out and shifted out.
RUSSIAN ROCK (G Behr) had to be shifted to the outside of LINEBACKER (D Dillon) leaving the 250m to continue its run.
Jockey P Strydom, the rider of HOEDSPRUIT, reported this gelding made an abnormal respiratory noise in the running. The veterinary surgeon was requested to examine. The Vet reported that no abnormal respiratory noise was detected.
‹ Previous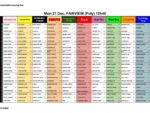 Fairview Today- All The Selections