Cape Racing can confirm that it is now officially Racing behind closed doors, with no spectators allowed on the course.
The follows the NHRA Press Release of Tuesday 29 December 2020.
This notice serves to confirm that until 15 January (at this point) only accredited Trainers will be allowed on course.
Unfortunately no owners, members, or private suite holders will be permitted on course until we receive an update on the lockdown restrictions.
We will be sure to remain in contact with all of you, and update you as and when we receive further information. You are welcome to contact the team should you have any queries.
Cape Racing is currently working on an upgraded television production, for all stakeholders watching from their homes.
Strict Covid protocols will be in place and monitored by the NHRA for all on course employees.
Media release by Cape Racing on 29 December 2020
‹ Previous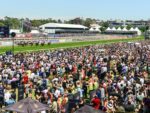 Tellytrack Apologise For Aussie Blackout