The first 25 entries for the 2021 R1 million Cape Met to be run at Kenilworth on Saturday 30 January were received today.
Click here for the Hollywoodbets ante-post betting
Included in the first entry is Saturday's WSB Gr1 Summer Cup winner Summer Pudding, whose main target is the Gr1 Paddock Stakes.
First supplementary entries are due by 11h00 Tuesday 15 December 2020.
Final supplementary entries by 11h00 on Monday 11 January 2001.
Weights will be published on Monday 11 January 2021.
Declarations are due by 11h00 on Monday 18 January 2021.
R1 000 000 2000m (Turf)
SUN MET (Grade 1)
0
African Night Sky
Justin Snaith
120
0
Azores
Dean Kannemeyer
101
0
Baby Shooz
Peter Muscutt
94
0
Belgarion
Justin Snaith
124
0
Capoeira
Andre Nel
115
0
Captain Of Stealth
Vaughan Marshall
101
0
Cirillo
Sean Tarry
126
0
Do It Again
Justin Snaith
133
0
Golden Ducat
Eric Sands
128
0
Hudoo Magic (AUS)
Brett Crawford
110
0
King Of Gems
Brett Crawford
109
0
Majestic Mozart
Candice Bass-Robinson
107
0
Malmoos
Mike de Kock
114
0
Nexus
Justin Snaith
113
0
Queen Supreme (IRE)
Mike de Kock
122
0
Rainbow Bridge
Eric Sands
134
0
Running Brave
Paul Matchett
119
0
Sachdev
Justin Snaith
108
0
Seventh Gear
Dean Kannemeyer
103
0
Silvano's Timer
Dean Kannemeyer
108
0
Silver Operator
Vaughan Marshall
109
0
Sir Michael
Dean Kannemeyer
97
0
Sovereign Spirit
Candice Bass-Robinson
106
0
Summer Pudding
Paul Peter
129
0
Super Silvano
Brett Crawford
102
(25)
‹ Previous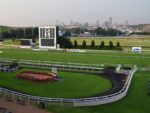 First Juveniles Step Out Today