Introduced in 2016 after the closure of the Vaal sand track, the Grand Heritage was touted to become South Africa's equivalent of famous big field handicaps like The Cesarewitch, The Cambridgeshire and the Tote Ebor, which are three of the biggest annual betting heats in England.
The race was run in its opening year for a stake of R750 000 and paid cheques all the way down to 15th finisher, as long as 28 ran.
What made it unique was that a capacity field of 28, as opposed to the regular number of 20, could be accommodated.
The race is open to all horses with a net merit rating of 106 and below, and thus gives the slightly lesser gallopers the chance to earn nice prize money.
On Saturday, as if we needed reminding, the fifth renewal illustrates the sad reality of the sport's fall from grace.
In that opening year, a Grand Jackpot – four fields of 28 runners was offered. On Saturday, the four jackpot races consist of 9, 8, 17 – with the consolation race only starting 10 horses.
Only 17 acceptors will start in the headline feature from the 56 nominations originally received.
The stake is now R150 000.
Well done to staunch racing sponsors World Sports Betting. They rescued Saturday's Gauteng Summer Cup and they have come to the party again.
On Saturday, Oscar Wilde, from the Mike de Kock stable, has been priced up 7-2 favourite. The four-year-old son of Dynasty has been allotted 52kg and will be ridden by Callan Murray.
Expressfromtheus is next best at 5-1 on the bookmakers' boards. Stuart Pettigrew's charge will be ridden by Marco van Rensburg and carries joint top weight of 60kg with Mike and Adam Azzie-trained Full Mast who has S'manga Khumalo up.
Rouge Allure will be well suited to the course and distance and the Stephen Moffatt-trained mare is next best at 11-2.
Clinton Binda's Whorly Whorly won the final race on Summer Cup day under Piere Strydom but Jason Gates is in the saddle on Saturday with Strydom riding All Of Me for Corne Spies.
(Turf / Straight) R150 000 1475m 16:20 Ref-403
1st R90000, 2nd R37500, 3rd R15000, 4th R7500
WSB GRAND HERITAGE (Non-Black Type)
For Horses rated nett 106 and below
WFA: 4yrs-0kgs 3yrs-6kgs
No Apprentice Allowance
1
9
ExpressFromTheUS
60
101
A
M V'Rensburg
Stuart Pettigrew
2
13
Full Mast
60
101
BA
S Khumalo
M G Azzie/A A Azzie
3
16
Rouge Allure
59
99
TBA
G Lerena
Stephen Moffatt
4
10
Whorly Whorly
57.5
96
*J Gates
Clinton Binda
5
11
Finchatton
57
95
BA
J Greyling
Gokhan Terzi
6
12
Dan The Lad
56.5
94
A
M Yeni
Paul Matchett
7
15
Golden Pheasant
56
93
A
C Maujean
Corne Spies
8
6
Naafer (AUS)
56
93
T A
*L J Ferraris
Mike de Kock
9
1
What You Are
56
93
A
P Strydom
Corne Spies
10
5
Strada Statale
52.5
86
A
L Hewitson
St John Gray
11
2
Spanish Boy
52
85
T A
C Zackey +1.0
Lucky Houdalakis
12
8
Diorama
52
84
BA
*N Klink
Mike de Kock
13
3
Oscar Wilde
52
82
BA
C Murray
Mike de Kock
14
4
Elusive Swann
52
81
A
C Habib +0.5
Paul Matchett
15
14
True Words
52
78
A
J Penny
Corne Spies
16
17
Stop For Nothing
52
76
TBA
C Bantam
Stephen Moffatt
17
7
Street Flyer (AUS)
52
58
BAM
*J R Syster
Paul Matchett
Same Trainer – Not Coupled on Tote
(3,16) (6,14,17) (7,9,15) (8,12,13)
‹ Previous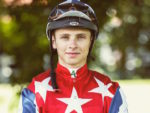 Interference – Hewitson Gets 7 Days