A colt by outstanding young English sire Kingman topped Day Two of the 2021 Magic Millions Gold Coast Yearling Sale on Wednesday when selling for A$1.8 million.
Coolmore's Tom Magnier was the winning bidder, coming out on top after a sale ring battle with leading bloodstock agent James Harron.
The colt is the sixth foal of the Redoute's Choice mare Florentina who scored her biggest win in the Group Three Gold Coast Guineas, just a short walk from the Magic Millions complex.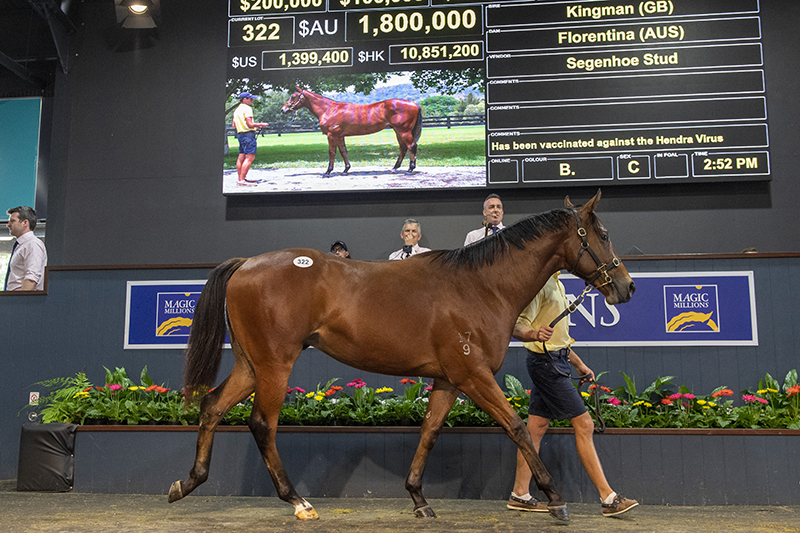 He was bred by John Camilleri of Fairway Thoroughbreds – the man responsible for breeding world champion racehorse Winx and Golden Slipper winner Vancouver, who were both sold at previous editions of the Gold Coast Yearling Sale.
"Segenhoe always have incredible horses at this sale," a delighted Tom Magnier said. "John Camilleri can certainly breed a horse – when you see the Fairway brand you have to take them seriously."
"He's a lovely individual and we know how well Kingman is going at the moment – all the boxes were ticked for us."
"We are delighted to be able to get him and he will go to Chris Waller – all of the (Coolmore) guys liked him, so fingers crossed," Magnier added.
Segenhoe Stud's Peter O'Brien knew the colt would be popular but he was over the moon with the sale price of A$1.8 million.
"John sent the mare up to England to go to Kingman and this guy was born there and came back with her," O'Brien said. "It was a big play, but John's been rewarded today."
"We knew he was really popular, all the right people were on him. The reserve was a lot lower, we put him on the market early and he's gone to a home of champions at Coolmore and he'll get every chance."
Today's sale topping result provided a poignant moment to the team at Juddmonte Farm who raced and stand Kingman following the sad passing of Juddmonte founder His Highness Prince Khalid bin Abdullah overnight.
The Kingman-Florentina colt was one of four yearlings to sell for seven figure amounts during an action packed second day of the sale.
Harron bounced back late in the day to secure the Shalaa colt from Honesty Prevails from the Arrowfield Stud draft for A$1.15 million. He also paid a record A$975,000 for a colt by his former Magic Millions 2YO Classic and Golden Slipper winner Capitalist.
Torryburn's Not a Single Doubt colt from Denmagic was knocked down to Tony Fung Investments and Phoenix Thoroughbreds for A$1.1 million, while it was an even A$1 million for Widden Stud's Zoustar-Fuddle Dee Duddle colt who went to the partnership of Victorian Alliance, Suman Hedge and David Redvers.
With two days of the sale complete, the gross has surged to over A$85 million with an average price of A$258,773 for 330 lots sold. The clearance rate sits at an outstanding 88 per cent.
"It was another fantastic day's trade," Magic Millions Managing Director Barry Bowditch said. "It followed on from yesterday – there's a lot of confidence in the market."
"The vendors are meeting the market and the buyers are feeding off each other – to have the figures we have is great and for the clearance rate to be around 88 per cent at this stage of the sale is extraordinary."
"There's a lot of nice horses to still go through the ring and we are hoping the market holds strong over the next five days," Bowditch added.
To view the results of the sale so far or to make an offer on a passed in lot click here.
Day Three of the 2021 Gold Coast Yearling Sale will commence at 10am (Qld time) tomorrow.
(Day 1-2, 2020 in brackets)
Lots Catalogued: 410 (524)
Lots Sold: 330 (419)
Lots Passed In: 47 (66)
Lots Withdrawn: 33 (38)
Sale Gross: A$85,395,000 (A$104,344,500)
Top Price: A$1,900,000 (A$1,900,000)
Average Price: A$258,773 (A$249,032)
Median Price: A$180,000 (A$180,000)
Sold %: 88 (86)
A$1,800,000 – Kingman-Florentina colt (Lot 322)
Vendor: Segenhoe Stud (As Agent for Fairway T'breds) / Buyer: Tom Magnier (NSW)
A$1,150,000 – Shalaa-Honesty Prevails colt (Lot 382)
Arrowfield Stud (As Agent) / James Harron Bloodstock (NSW)
A$1,100,000 – Not a Single Doubt-Denmagic colt (Lot 221)
Torryburn Stud / Tony Fung Investments/Phoenix Thoroughbreds (Qld)
A$1,000,000 – Zoustar-Fuddle Dee Duddle colt (Lot 332)
Widden Stud (As Agent) / Victorian Alliance/Suman Hedge B'stock/David Redvers B'stock (Vic)
A$975,000 – Capitalist-Golconda colt (Lot 349)
Newgate Farm (As Agent) / James Harron Bloodstock (NSW)
(ranked by total spend)
A$5,235,000 – Tony Fung Investments/Phoenix T'breds – 9 lots
A$4,460,000 – Ciaron Maher Bloodstock – 15 lots
A$4,380,000 – Tom Magnier – 4 lots
A$3,035,000 – Waller Racing/Mulcaster Bloodstock – 8 lots
A$2,470,000 – Gai Waterhouse/Adrian Bott/Kestrel T'breds – 9 lots
(ranked by average – 3 or more sold)
A$533,095 – I Am Invincible – 21 sold
A$500,000 – Not a Single Doubt – 5 sold
A$486,471 – Snitzel – 17 sold
A$468,750 – Redoute's Choice – 4 sold
A$416,818 – Fastnet Rock – 11 sold
(ranked by average – 3 or more sold)
A$576,667 – Segenhoe Stud – 9 sold
A$481,250 – Silverdale Farm – 4 sold
A$445,000 – Tyreel Stud – 4 sold
A$426,875 – Widden Stud – 16 sold
A$420,000 – Strawberry Hill Stud – 4 sold
‹ Previous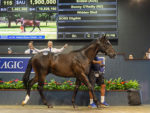 A$1,9 Million Tops Gold Coast Day 1