While he saddled close on 1000 winners during his twenty years as a trainer, it has been fourteen years since Dominic Zaki launched a rare raid from Gauteng on the L'Ormarins Queen's Plate with the accomplished National Spirit.
While that was the first year of the Pocket Power sensational royal four-timer and the Zaki galloper didn't produce his best, Dom remembers it as a great race to go for with the right horse.
"The Queen's Plate is the benchmark of excellence at a mile in South Africa. National Spirit was a great horse but there are always risks in travelling and he wasn't himself that day. He won the Gold Challenge the previous season at Clairwood Park, so it wasn't the left-handed track. We travelled with a companion to Kenilworth – a filly called Ghost Writer – and she ran second under Piere Strydom. So It wasn't a wasted trip and in racing you never know, unless you try!" adds the experienced horseman.
Dom suggests that on Saturday it is difficult to look past Belgarion – a 'proper horse' as he calls him – but feels that Rainbow Bridge may have more to come after the Green Point Stakes, when things didn't quite go his way.
"I can't see a runaway winner. Only eight runners, but a humdinger is guaranteed," he muses as he reflects on a lifechanger year for many in the industry.
Despite achieving his second highest career mark in the previous season, Dom threw in the towel with training in December 2015.
"It was a time of economic doom and gloom, the paucity of new owners and the exorbitant, sky-rocketing costs not matched by stakes in a battling local industry. I could no longer financially justify carrying on with my career," he recalls.
But one door closed and another opened. He landed up being head hunted by Tellytrack, and found himself revelling in an environment where his passion and knowledge blossomed.
"I loved the opportunity to add value at Tellytrack. I probably extended my job parameters, but was obsessed with getting all the races aired and the right information to the punting public. I worked long hours but loved it and felt much satisfaction in trying circumstances at times as we focussed on pushing betting turnovers."
He is reluctant to elaborate on the 'trying circumstances' reference – but concedes that there were people in the system that neither shared his passion nor love of the game.
"I think racing is an industry that requires folk with specific knowledge and a bent for going the extra mile – it's not a job, it's a vocation. If you don't know the difference between a Pick 6 and a Jackpot, and are a clockwatcher, then you won't make it in the drive and thrust of the racing broadcasting industry. It's not fair for me to go into detail as there were many good folk in the system."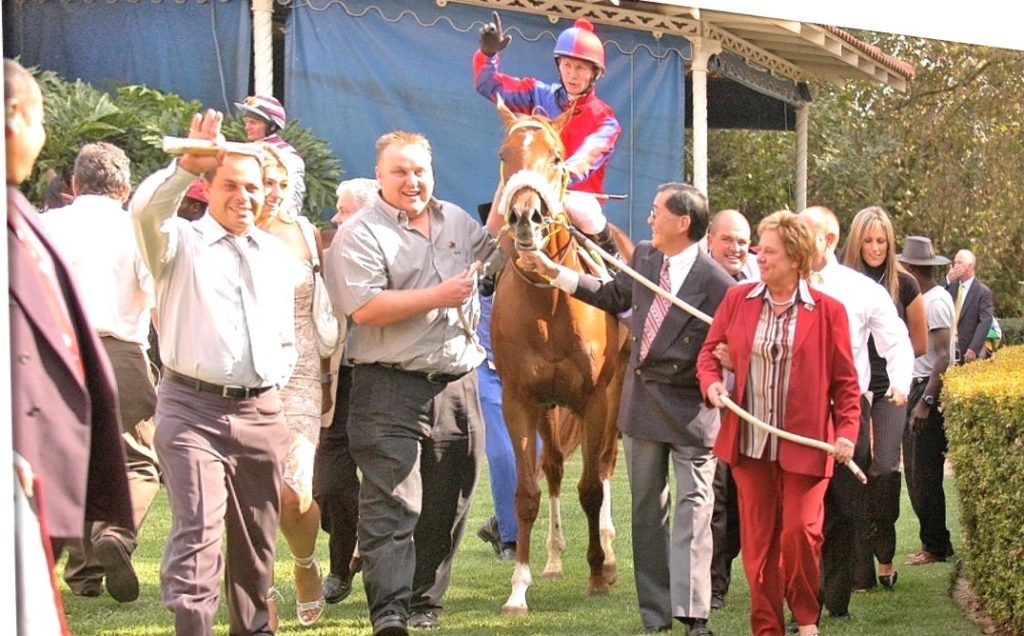 He concedes that he feels 'heartbroken' when he looks at what Tellytrack churns out today.
"Times are tough. There is no money. But that's more reason to have the right people in the driving seats, surely? It just feels that everything has been destroyed. I get calls and know that many punters are disillusioned. Tellytrack is racing's shop window and is vitally important. I hope we can drive a rethink on it," he adds.
Dom is currently unemployed, after having been culled with the majority of the racing broadcaster's personnel late last year.
It's a bitter pill to swallow for a man who has so much to contribute and who hails from a racing family. He grew up eating, drinking and sleeping horses.
"My father Teddy was a passionate and very successful individual colour holder with the Jockey Club Of South Africa. He owned thoroughbreds for many decades and enjoyed lots of success with dozens of Graded winners including Champion Stayer King's Choir (Gr1 OK Gold Bowl) and Grand National (winner of Gr1 SA Oaks and Gr1 SA Invitation Stakes), Champion Older Filly of her year."
In 1985, at 15 years of age he started riding work for various trainers at the Turffontein Training Centre.
"My father's horses were trained by George Tambourlas, who'd trained most of his winners, so I had an opportunity to work in a professional and successful stable and gain first-hand and hands-on experience. I soon set my sights on becoming a trainer myself but that wouldn't happen until later as I wanted to complete my school career first."
After matriculating in 1987 Dom became a stable employee to George Tambourlas until his father decided to place his horses with his cousin, Martin Zaki.
"I worked for him as assistant trainer until I took out my own licence in 1993 – at the time, aged 22, I became the youngest licensed trainer in South Africa.  I trained privately for my father, starting with a small string of 15 horses at a private facility near Walkerville, Johannesburg at which over time I'd built a sand track and a grass track to train on. My small team and I maintained the tracks and steadily improved the other facilities."
In his first season, just a part of the 1993/4 term, he trained 11 winners and 102 placed runners from 254 runners for a W/P percentage of 45%. This was improved upon year-on-year, with 36 winners and 312 places from 883 runners in 1996/7, still from a limited private string.
"After the death of my father I took out an open trainer's licence in 2001 and with significant support from a broad base of owners I built the string from around 20 horses in training to much higher averages in the following years and near 100."
With the additional support the young Zaki made rapid progress between 2001 and 2011, finishing in the Top 6 on the National Log in 2005/6 and 2006/7, in the Top 10 in 2007/8 and 2008/9 and in the Top 20 in the rest of the time.
"I also won my first Gr1 contest with R100K purchase Talahatchee in the Premier's Champion Stakes for Three-Year-Olds in 2004. This was followed with Gr1 wins by our R80k stable star National Spirit (Golden Horseshoe 2005, Gold Challenge 2006) while 150k purchase Eddington who won the 2008 Gr1 GommaGomma Challenge, then Africa's richest race worth R3,5-million. Among many other races, National Spirit also won the Gr2 Emerald Cup in 2006, at the time Africa's richest race on sand, giving us a major stake feature race double on both track surfaces."
He also won the Gr1 SA Nursery at Turffontein in 2015 with two-year-old colt Arabian Beat, giving the stable Gr1 wins on turf over 1200m, 1400, 1600m and 2000m, and the highest Graded sand race in Africa over 1450m.
He moved his operation from his private tracks to the Vaal Training Centre in 2011 and in four successive seasons was leading trainer based at the complex.
This reflects in the stable's number of winners –  71/54/71/64 – an average of 65 winners per season until the end of the 2014/15 term.
"I trained 978 winners and 7420 places between 1994 and 2015, in fact saddled a treble at my last meeting. The statistics include 5 Gr1 wins, 9 Gr2 wins, 5 Gr3 and 17 Listed wins for gross stake earnings of ZAR 69,59-milion."
Dom is happy to consider various options – he can be contacted at [email protected]
Click on the image below to read the latest SPRINT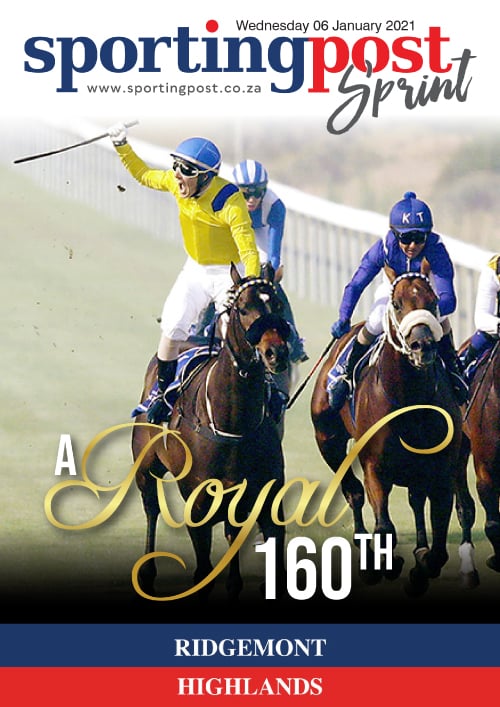 ‹ Previous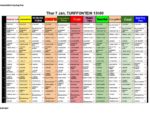 Turffontein Today- All The Selections