A colt by Yarraman Park Stud's super sire I Am Invincible topped the Saturday night action as the Gold Coast Yearling Sale extended its record breaking form.
Following the hugely successful A$10.25 million The Star Gold Coast Magic Millions Raceday, the action switched back to the sales complex with three hours of sales action to round out Book One.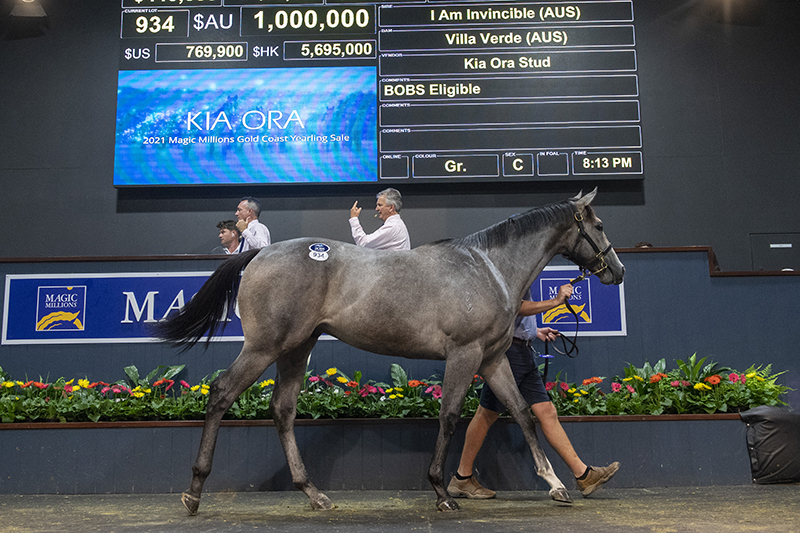 Annabel Neasham teamed up with her Bloodstock Manager Brian McGuire to secure the Villa Verde colt from the Kia Ora Stud draft for A$1 million.
"I loved him," Neasham said. "I saw him twice on the farm at Kia Ora and I loved him the first time and when I went back for my second looks, I loved him even more."
"It has been a long week waiting for him to come through on the final night, so I am delighted to get him, especially being from a great farm in Kia Ora."
"It is great to get a really exciting colt and hopefully we can come back here next year with him."
"His action is great, he's got a deep girth and he has got a great attitude," Neasham added.
Shane Wright, the Bloodstock and Breeding Manager from Kia Ora Stud, was delighted with tonight's result and the week as a whole.
"We're delighted to get two million-dollar horses in the week, it's amazing," Wright said.
"This colt was top class, we loved him from the day he came in and he has just been perfect ever since. He's really gone done well at the sales. He's behaved himself immaculately, and the very best to Annabel and the team going forward."
"Magic Millions week has been amazing," Wright added. "Considering the circumstances, Barry, Katie and Gerry and the team have all done an amazing job to pull off a week like this and the results have shown that."
Book One of the sale rounded out tonight with a sale gross of over AA$197 million with an average price of A$253,848 and clearance rate of 88 per cent – all up on last year's record breaking figures.
"It's overwhelming," Magic Millions Managing Director Barry Bowditch said. "It's special what we've achieved."
"To work as we've done in the last six months to put this catalogue together, and then to have the restrictions and the roadblocks put in place over the last month, has put this team under immense pressure. To pull this off to the level we have is something we didn't expect. It is very special."
"I'm proud of our vendors. They have sent their very best yearlings that are ready for this sale. The buyers have seen how we've picked it. We've had quality horses from Lot 1 to Lot 962."
"Buyers have got a lot to race for, prizemoney is great, the race series is a fantastic fillip. They really got behind these horses and it really boosted the prices."
"It's a huge list of buyers, when you look at the syndicators, you've got the individual owners, you've got a big, big group of trainers and you've got the funds and farms getting in behind these horses. It's a big deep list and everyone has played their part. I'm speechless."
Bowditch said he was looking forward to the next couple of days comprising Books 2 and 3 and the Summer Racehorse Sale.
"There's so many outstanding opportunities to come tomorrow and Monday whether it be a yearling or a racehorse."
"So many incredible horses – Group One winners and Magic Millions winners – have come out of this sale and not from Book One – the astute buyers will be sure to find some special horses," he added.
To view the results of the sale so far or to make an offer on a passed in lot click here.
Book Two of the 2021 Gold Coast Yearling Sale will commence at 2pm (Qld time) tomorrow before concluding from 10am on Monday.
(2020 in brackets)
Lots Catalogued: 962 (888)
Lots Sold: 777 (709)
Lots Passed In: 107 (102)
Lots Withdrawn: 78 (77)
Top Price: A$1,900,000 (A$1,900,000)
Sale Gross: A$197,240,000 (A$177,407,000)
Average Price: A$253,848 (A$250,221)
Median Price: A$180,000 (A$180,000)
Sold %: 88 (87)
A$1,000,000 – I Am Invincible-Villa Verde colt (Lot 934)
Vendor: Kia Ora Stud / Buyer: Annabel Neasham/Brian McGuire (NSW)
A$625,000 – Zoustar-Thrill filly (Lot 889)
Widden Stud (As Agent) / Ciaron Maher B'stock (Vic)
A$625,000 – Snitzel-Time Check filly (Lot 895)
Arrowfield Stud (As Agent) / Willinga Park/Australian B'stock (NSW)
A$600,000 – I Am Invincible-Ygritte filly (Lot 962)
Rosemont Stud (As Agent) / Suman Hedge B'stock (Vic)
A$520,000 – Deep Field-Xandretta filly (Lot 960)
Black Soil B'stock/John Foote B'stock/Gollan Racing (NSW)
(ranked by total spend)
A$11,645,000 – Tony Fung Investments/Phoenix T'breds – 19 lots
A$11,270,000 – Ciaron Maher B'stock – 37 lots
A$8,120,000 – Gai Waterhouse/Adrian Bott/Kestrel T'breds – 26 lots
A$5,275,000 – James Harron B'stock – 7 lots
A$4,905,000 – Tom Magnier – 5 lots
(ranked by average – 3 or more sold)
A$597,647 – Not a Single Doubt – 17 sold
A$544,545 – I Am Invincible – 44 sold
A$506,667 – Almanzor – 3 sold
A$462,222 – Redoute's Choice – 9 sold
A$458,636 – Snitzel – 44 sold
(ranked by average – 3 or more sold)
A$596,667 – Emirates Park – 6 sold
A$535,000 – Silverdale Farm – 5 sold
A$434,375 – Strawberry Hill Stud – 8 sold
A$420,000 – Kia Ora Stud – 11 sold
A$386,739 – Segenhoe Stud – 23 sold
‹ Previous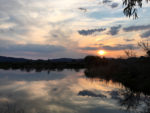 Please Give This Dam House A Name!