Brett Maselle truly was one of a kind. We didn't always agree on everything he did and for many years were on opposites sides of the fence, bizarrely in a way,  as we had the same ideals, had issues with the same rogues, and in reality fought the same fight.
Robert Bloomberg writes that when they finally spoke a few years back for the first time, they both realized that they had clashed mainly through misunderstanding and rumour – a dangerous combination from which to form any opinion.
Thereafter developed a professional relationship and friendship which was both refreshing and rewarding for the value he brought to my life.
There are few I have encountered to whom the word 'confidentiality' meant exactly that. His word was his bond.
No matter what he thought of someone, he was always a gentlemen to his fingertips. Polite, articulate, smart, erudite, clear thinking and highly intelligent.
As a person, he was unbreakable and his passion for horseracing and ridding the sport of its demons and willingness to assist in restructuring the game, unflagging and unrelenting.
Time will tell whether matters he had initiated come to fruition, but I sincerely hope it does as it would be a fitting tribute to his memory.
He was a fiercely private man, never discussing his homelife and family and incredibly brave and courageous, never alluding to his co-morbidities and frailties.
He was selfless and generous. Kind and compassionate. Helpful and understanding. And a fighter bar none, no matter the bullying tactics and financial muscle used in threatening him.
He is one of but a handful of warriors in racing that I would unhesitatingly go to war with.
During his roughly two months on life support and on a ventilator, and when I found out about his traumatic situation, I used to look at his WhatsApp on a daily basis in the hope that he had been 'seen' but the last communication, a few laughing emoji's from him on 23 November 2020, sadly remained.
I finally sent him a heartfelt message on 18 January 2021 which he never got to read. I make mention of this as a reflection of the impact he had on me as a friend.
It was an absolute honour and a privilege to have met a man amongst men which I guess is a strange thing to say when I amazingly never actually ever got to meet him in person.
You are gone but never forgotten by me Brett. MHDSRIP
‹ Previous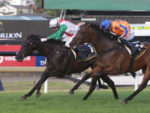 Aegon Rewrites The History Books